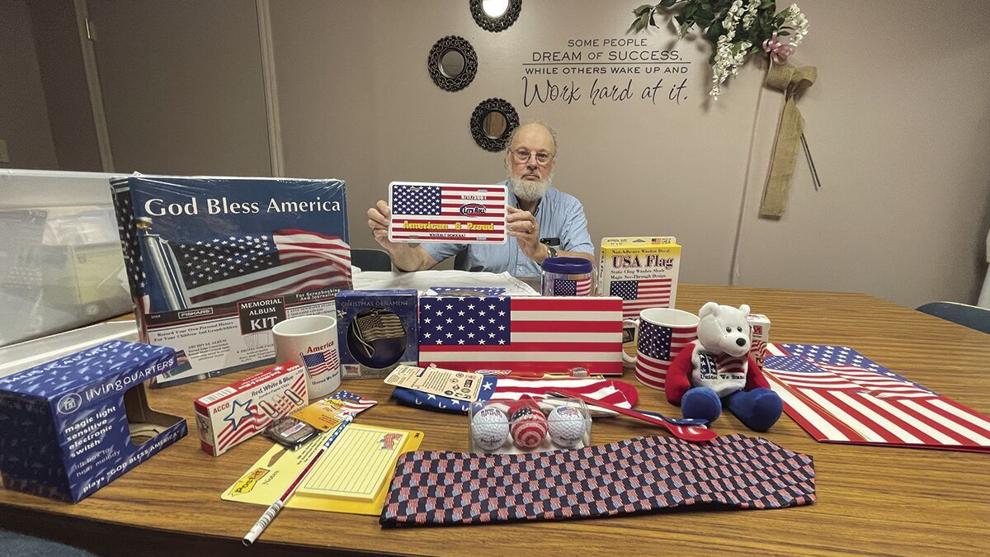 I teach a course on the World War II home front and use artifacts of the era to help students understand what life was like then. This would be considered the study of material culture, the objects we own.
After the September 11 terrorist attacks, I was struck by how similar the response was to how American culture reacted to Pearl Harbor. For the next year I collected artifacts showing the American reaction. The reflections that follow come from a paper I presented at a conference in the fall of 2002.
The September 11 attacks produced an immediate burst of patriotism that was demonstrated by an increased display of the flag. Flying the flag became so popular that retailers noted runs on the item and sometimes reported shortages. The same happened in 1941. Many people displayed patriotism by wearing pins depicting the flag. Such pins have been around for years, but September 11 brought them into the mainstream, at least for a time. Existing supplies were quickly supplemented by new production.
By mid-October one couldn't walk through a shopping mall or concourse without finding several vendors with pin displays near the cash register. While flag pins of various sorts were in use in WWII, they seem to represent a much smaller proportion of pins people acquired.
Another early response to September 11 was the appearance of various patriotic handicrafts produced by individuals. Sometimes this was merely a swatch of red, white, and blue ribbon attached to clothing with a safety pin. More common was a looped ribbon or ribbons or red, white and blue, held together with a safety pin or glued together, sometimes with another symbol superimposed over it. I acquired an example of this sort in early October 2001, at a local flower shop where they were complimentary gifts from the proprietor. Another early craft expression of patriotism was the placement of colored beads on safety pins to resemble the American flag. These were sometimes sold to raise money for charities aiding victims of the terrorist attacks. News of how to produce handicrafts of all these types spread quickly in newspapers, craft magazines, craft stores, and especially websites. Within days of September 11 there were websites available with downloadable patterns for the creation of patriotic crafts. While men were more likely to wear flag lapel pins, women were much more likely to wear these handicraft items.
The attack on Pearl Harbor evoked a patriotic response among crafters, as well. Surviving examples are few when compared to the considerable number of craft items produced after September 11, however.
If one looks beyond those craft items bearing the slogan "Remember Pearl Harbor," one finds a greater variety. During the war numerous craft patterns, especially for various cloth items, appeared. One could embroider dish towels with humorous scenes from military life, a chair back cover with an eagle, or crochet barnyard animals for children's toys. There's no way to know how many such items were actually produced from these patterns. Few seem to have survived to become collectibles.
In the months following the attacks of September 11, Americans were greeted with a barrage of commercial products related to the tragedies. Certainly among the earliest and most widespread were pins that allowed people to express their patriotism, unity, sympathy for the victims, and outrage against the perceived enemy. Traditional flag pins appeared in greater variety and manufacturers sometimes superimposed the flag over the outline of the contiguous United States. Traditional American symbols were employed. The bald eagle appeared as an expression of American determination and vengeance. The Statue of Liberty was common, in part because of its traditional meanings to Americans, but also because of its proximity to the World Trade Center. Curiously, Uncle Sam was less in evidence in the material culture after 9/11 that he was in World War II.
While the flag, eagle, and Statue of Liberty were all traditional American symbols represented in the material culture of World War II, new symbols became common in the artifacts of 9/11. Among these was the looped ribbon, typically in patriotic colors. Modern use of a ribbon, originally in yellow, as a political or social statement appears to date to the Iran hostage crisis and was probably inspired by the song "Tie a Yellow Ribbon Round the Ole Oak Tree" made famous by Tony Orlando and Dawn. A yellow ribbon, often tied in a bow, was used as a sign of support for American troops during the Persian Gulf War. During the 1990s a number of causes adopted looped ribbons of various colors to advertise an issue and mobilize support.
While a looped ribbon sometimes appeared as a stand-alone symbol in 9/11 material culture, it often included other icons. Among the foremost of these was the profile of the twin towers of the World Trade Center. Other symbols included the Pentagon and the logos of United Airlines and American Airlines, the companies whose aircraft were hijacked on September 11. Examples also appeared with crosses, doves, and emblems of the New York fire and police departments. Red, white, and blue is the most common color combination for the ribbon, but yellow was also used. An effort was made just after September 11 to launch a gray ribbon campaign, with the gray representing "the thousands who lost their lives . . . [and] the determination of the American people to rise out of the ashes to build again," but did not catch on.
The looped ribbon has no presence in WWII home front material culture. Its WWII counterpart is the letter "V," often shown with three dots and a dash–the Morse code for the letter. "V for Victory"–symbolizing the Allies' determination to defeat their enemies–is found across the entire range of WWII collectibles, from jewelry to salt and pepper shakers, from postal covers to recipe books, from postage stamps to board games.
Another early artifact of the post-9/11 period was the flag sticker, either magnetic, held by adhesive, or static-cling. Many of these were designed so that people could easily show their patriotism on home or car. Some businesses gave them to customers in return for a donation to one of the charities organized to aid victims of the attacks. These were followed by small flags on poles that one could secure to a car window. By late 2001, one couldn't go far in a shopping mall parking lot without encountering dozens of cars that somehow displayed the flag.
Both eras quickly adopted slogans that captured American sentiments. The Japanese attack on Hawaii inspired the slogan "Remember Pearl Harbor," which apparently first appeared in print in the editorial of the December 10, 1941, issue of the Portland Oregonian. It quickly appeared on a wide range of objects and continued in use throughout the Pacific war. The tone with which it was used had more to do with seeking revenge on Japan than memorializing the casualties. The purpose of remembering was to bring the enemy to account. Other World War II slogans included "God Bless America," the title of a popular Irving Berlin song most associated with Kate Smith, and "United We Stand." "Keep 'em Rolling" and "Keep 'em Flying" were popular slogans used to mobilize workers and resources to produce war materials.
"United We Stand" quickly emerged as the dominant American slogan after September 11, followed by "God Bless America." These appeared on pins, publications, bumper stickers, Christmas ornaments, light displays, and other artifacts. EconoFoods, a grocery chain with stores in Iowa, still used a "United We Stand" logo on its ads nearly a year after the attacks. These slogans conveyed a different tone than did "Remember Pearl Harbor." These called for unity in the face of adversity and for divine aid, not vengeance. The only slogan that spoke of a mobilization was "Let's Roll," taken from Todd Beamer's remark aboard Flight 93 as the passengers prepared to storm the cabin and prevent the aircraft from being used in a suicide attack. This phrase occasionally appeared on artifacts after 9/11, was quoted by President George W. Bush, and became part of a new wave of nose art on Air Force aircraft.
These slogans sometimes appeared on pinback buttons, but they were also often found on bumper stickers. The printing technology that makes possible an all-weather sticker suitable for automobiles was developed after World War II and first saw wide use in the election of 1956. Used initially for political campaigns, bumper stickers became popular as people used them to express a variety of sentiments in a public fashion. They offer distinct advantages over pins–they provide a larger canvas on which to express a sentiment, they can be seen by a wider audience, and they are long-term fixtures.
Bumper stickers are not found in WWII memorabilia, though metal signs were sometimes affixed to bumpers and license plates. A more common way of expressing one's sentiments was the use of postcards. Today we associate postcards with vacations and we use them to show people where we have been. While postcards were used for that purpose in the 1940s, they could also be used to promote patriotism or convey–often with humor–how one felt about the enemy or wartime conditions.
I found postcards that reflected post-9/11 themes in major cities I visited in the spring and summer of 2002. In San Antonio I found one vendor offering a nice selection of patriotic postcards, some bearing the slogans made popular after September 11 and others depicting familiar American icons such as the Liberty Bell, Capitol building, and Statue of Liberty. They can be characterized as big and bold, as one might expect in Texas. One interesting example showed several aircraft and the phrases "United We Stand" and "United States Air Force," not surprising in a city with major Air Force installations. Another transformed "Don't Mess with Texas" into "Don't Mess with America."
The postcards I found in New York City in the spring of 2002 conveyed a very different message. The cards that were related to September 11 typically memorialized the World Trade Center. Several carried the dates 1973 and 2001 as though these were the birth and death dates of a person. All the cards that I saw showing the skyline of Lower Manhattan still had the towers of the World Trade Center in them. It was though New Yorkers were unwilling to acknowledge the loss. The only postcards I found that showed the destruction of the towers were before and after satellite photos.
New York also had the only postcards I found that were clearly anti-Osama bin Laden. The World War II era produced numerous examples of material culture portraying Axis leaders in negative terms. There is also the fact that little was known by the American public about Osama bin Laden before September 11 while enemy leaders in WWII were heads of state or high-ranking political officials. There were negative artifacts available, including an Osama bin Laden pinãta, purchasers of which were encouraged to "spit on it, burn it, kick it or just beat the hell out of it."
Among the most common ways in which Americans expressed a patriotic sentiment in the months after September 11 was the wearing of clothing–especially T-shirts and sweatshirts–with slogans, the flag or elements of the flag, or other national symbols. These appeared soon after the attacks. Groups often had them produced in local shops and sold them as fundraisers for charities. Large retailers followed suit, though increasingly slogans were downplayed and designs became more stylish. Apart from displays of the flag and bumper stickers that continued to announce a sentiment first expressed in the fall of 2001, these seemed to be the most enduring expressions of patriotism after 9/11.
There is very little of this sort of clothing memorabilia from World War II. The technology for quickly producing durable designs on clothing as might be done at a local T-shirt shop did not exist. Such clothing never became stylish. Indeed, in an era when the military absorbed a substantial part of the nation's textile production and civilian styles changed to conserve cloth, such a practice would have been considered wasteful. This is not to say that WWII had no impact on American clothing. Some designers sought to mimic uniforms in the cut of clothing and in accessories. Children's playsuits in the era sometimes adopted a style similar to uniforms. But civilian clothing of the era was worn until it wore out and few examples survive.
By the time of the attack on Pearl Harbor, America's mobilization campaign and the ongoing conflicts in Europe and Asia had familiarized children with a world of war. Children's toys reflected world events and toys for boys especially by late 1941 began to turn to military themes. This accelerated when the United States entered the war. The result is a substantial number of toys directly related to the conflict. Although restrictions on strategic materials limited what manufacturers could produce, the war years saw children playing with toy guns, boats, planes, paper dolls, jigsaw puzzles, and board games. Coloring books showed Allied aircraft bombing the enemy and American soldiers charging ahead.
Children's toys and games did not respond directly to the September 11 attacks with a wave of militarism. Games, puzzles, and coloring books reflected the growing interest in patriotism. Indeed, the one area of toys--at least from a review of ads--that seems to touch on September 11 was action figures related to rescue workers such as firefighters and police officers. In February, for example, Target offered an "FDNY collectible firefighter action figure" for $24.99, five dollars of which went to charity.
This highlights another significant difference between the artifacts of the World War II era and those of September 11. More than 16 million Americans served in the armed forces in World War II. Virtually everyone was connected through blood, marriage, or friendship to people who went off to war. Those in the nation's military were the heroes of their day. Blue service stars indicating a family member in service hung in many windows. A category of jewelry known as "sweetheart" jewelry depicting service stars, emblems of the nation's armed forces, insignia of rank, and military symbols was common.
The heroes portrayed in the artifacts responding to 9/11 were members of civilian services, especially firefighters, rather than military figures.
Manufacturers from both eras surely sought to profit from the quickening patriotism after the attacks of December 7 and September 11.
In the year after September 11 Americans saw an astounding number of items dressed up in red, white, and blue. Many of these items gave us symbols with which to speak of our love of country and show our sympathy for the victims of terrorism. Manufacturers of some items donated profits from sales to charitable organizations raising money for those affected by the attacks. Companies that produced items for the collectible market–Hummel, Bradford Exchange, Danbury Mint, to name a few—rushed to have something in patriotic garb to offer. But somewhere along the line the use of red, white, and blue ran amok. Or perhaps it is fairer to say that fashion sometimes replaced patriotism. How else can one explain such products as beach towels, golf towels, flip flop sandals, and blankets with the American flag? Or flatware, snowboards, panties, tennis shoes, and contact lenses with a flag motif? And who could resist a doormat bearing the slogan "United We Stand" and a "Stars & Stripes sofa," complete with a matching loveseat?
Manufacturers of patriotic goods in the years after Pearl Harbor were certainly capable of stepping beyond the bounds of good taste and were not above slapping some stars and stripes on a product to sell it. Perhaps their efforts somehow seem quaint after so many years. But it was also a different time. Portrayals of the American flag were generally done with respect.
Americans in 2001 had a material culture that was far richer in volume than did Americans of World War II. More items were available on store shelves; we owned more stuff. We lived in–and continue to live in–a global economy with foreign producers quick to respond to American markets. Many of that era's trinkets and baubles were made overseas, often in China, but in WWII such imports hardly existed. Americans then did not live with limits on strategic materials that must be devoted to a war effort.
In the early 1940s Americans were called upon to sacrifice for the common good–to stretch critical resources by salvage drives and rationing, to pay for the war by buying bonds and saving for victory. Americans' goal was to win a war and the artifacts of the era show that.
Following September 11 the American economy stumbled and we were called upon to spend for prosperity. The material culture of 9/11 amply demonstrated a growing patriotism and sense of unity. It displayed anger at an enemy, but one that was difficult–with the exception of Osama bin Laden–to put a face to. But it was more about remembering our losses than about achieving victory.