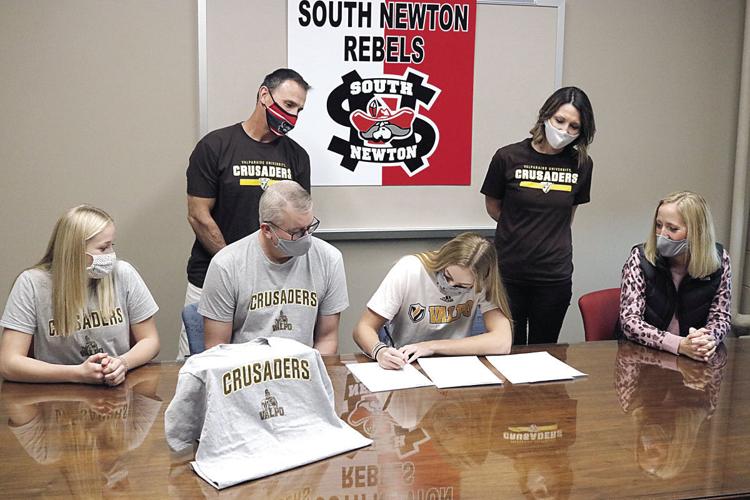 KENTLAND — Hard work pays off, and no better example of that was when South Newton senior Sam Warren signed a National Letter of Intent to accept a scholarship and play NCAA Division I volleyball at Valparaiso.
Warren signed with the Lady Crusaders on Nov. 11, the first day signing was possible.
"I worked with the girls on the team previously, and I know that program well," said Warren on why she chose Valpo. "All of the girls there are so great, and being on campus felt like home. I know that sounds cheesy, but being there, I could see myself there for another four years."
Warren busted onto the local volleyball scene as a sophomore with 152 kills and a team-high 29 blocks for a South Newton squad that went 31-2 and advanced to the sectional finals before falling to powerhouse Pioneer.
The next season, Warren posted 308 kills and 80 blocks as she helped lead the program to its first sectional title since 1986.
As a senior, Warren was the most dominant middle hitter in the area as she slammed down 436 kills to go along with 85 blocks, both team highs, as the Lady Rebels repeated as sectional champions. She also had 204 digs and 83 assists on the season.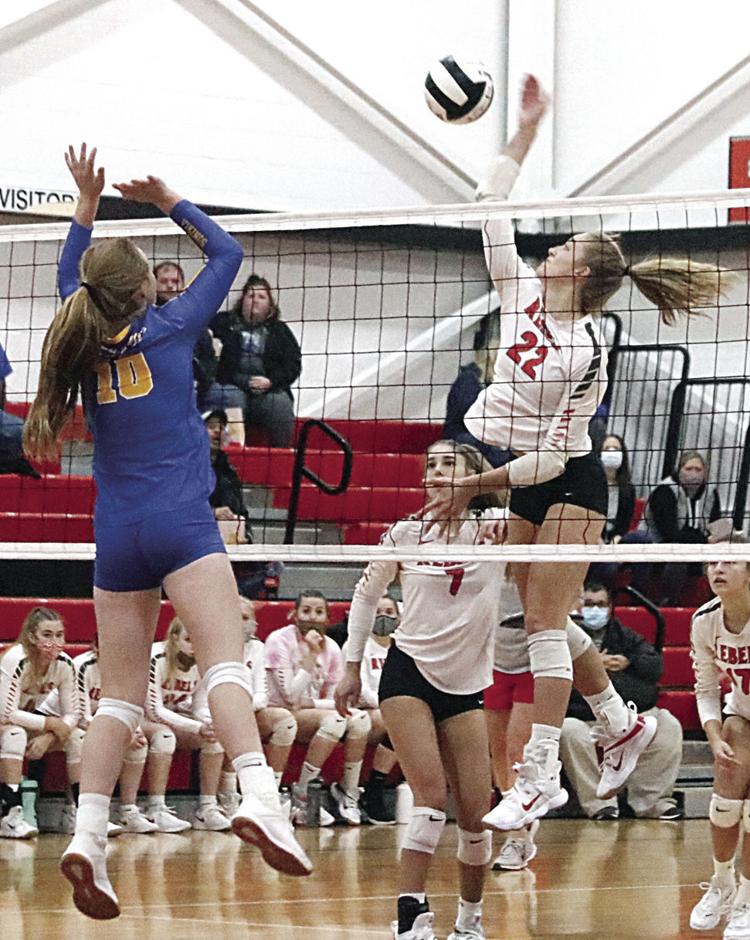 Her play earned her numerous accolades this season including being named to the American Volleyball Coaches Association's All-Region Team, Indiana High School Volleyball Coaches Association's 1A All-State 2nd Team, Indiana High School Volleyball Coaches Association's District 1A North Central Team, and Midwest All-Conference 1st Team.
"I said this multiple times this season, but Sam is one of the most humble and committed players I have ever coached," said South Newton coach Laura Robbins. "I have had a lot of committed players, but she is on a different level of driven. I think in terms of what her goals were, she was never worried about what her stats were. She was dedicated to winning and getting better. She's one of a kind."
It is that will to improve and to work extremely hard to reach her goals that set Warren apart from most players and why she is just one of a very small list of female athletes from South Newton to go and receive a Division I scholarship.
"It's really amazing actually," said Warren about making her decision official and signing with Valpo. "I mean everything I've worked for, like staying late and staying after to work on my skills and just playing club year-round and giving up a lot of my time finally paid off. To be able to get a scholarship to pay for my education is huge for me."
The time Warren put in to improve on her skills and the time in the weight room to give her a boost physically could be seen on the court over her time as a Lady Rebel.
"We just haven't had anyone like her," added Robbins. Her ability to jump and a lot of that is dedicated to what she has done in the weight room with coach Bell and all of the offseason work she has done. She has done all the work necessary to get better, but ultimately what she does in the weight room is what I think made her to be the powerhouse that she is."
Coach Robbins has no doubt that Warren will continue to work hard to keep improving her play and her skills on the next level.
"We were watching the state finals for 1A, and we were texting each other back and forth, and I'm like, you would seriously be the best hitter on the floor if you were out there, and she really would have been. There's nobody that I've seen that can get on top of the ball and can hit the ball as hard downward and as effective as she does. But in that whole text string, she said 'but you need to go watch Valpo's middle (hitter) that's where I need to be.' She's always striving to be better, so I have a feeling that she's going to keep pushing to rise to that next level."
Division I volleyball is filled with elite athletes, and the pace of the game is so much faster than high school. Warren knows she has to keep working hard to compete.
"I'm not the tallest, but something that I've been working on is improving my vertical," said Warren. "I'm just really excited to learn new things like beyond high school. Obviously, the game gets harder, and I want to be able to grow with it."
Warren thanked all of her coaches, especially Robbins and Bell, and her parents.
"They do a lot for me, especially with the character aspect, and without that, I wouldn't have made it as far because you can have skill, but it's really your character that determines how far you go. My parents have been behind me all of the way and encouraged me throughout my years playing in club and high school."
After graduation from South Newton, Warren will join the Valpo team for July workouts.
Warren plans on majoring in Exercise Science and go into physical therapy after college.