MOROCCO — North Newton rebounded from one of its worst performances of the season to sweep Hebron 3-0 on the Lady Spartans' senior night Sept. 2.
"We moved a lot more than we did the night before," said North Newton coach Jessica Wynn. "Our serves were much improved tonight as well. We have two powerful jump servers and that helps a lot."
The opening set was close early on, however, four serving aces, two from Harley Schleman and one each from Phoebe Busboom and Heidi Schleman, helped North Newton stay in the lead for most of the way.
Up 20-18, the Lady Spartans closed out the first set on a 5-1 scoring run for the 25-19 lead.
The second set was even closer than the first one as neither team held a lead larger than three points.
Harley Schleman added two more aces early in the second set, and Heidi Schleman served up a winner to break a 19-19 tie.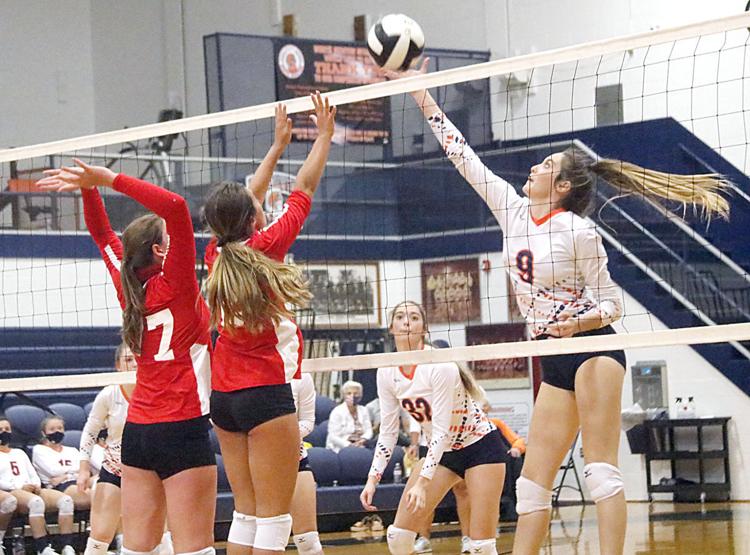 With the game tied up 20-20, a pair of kills from Cayci Ehlinger and one from Keely Evans sparked a 5-2 North Newton run for the 25-22 victory.
The Lady Spartans ran out to a 14-4 lead in the third set behind kills from Evans and Hannah Hiscox to go along with three aces by Hiscox and two aces from Heidi Schleman.
Hebron was able to reduce the deficit to seven points but couldn't get any closer in the 25-17 loss.
Hiscox finished with four kills to pace the Lady Spartans, while Lexi Cunningham and Heidi Schleman each had three. Heidi Schleman also finished with a team-high six aces, while Harley Schleman led the way with two blocks.
Hope Churchill and Hiscox added four assists each in the win as North Newton improved to 8-3 on the season.
"We still need to work on our hitting," added Wynn. "They work hard and dominate during practice but when it comes to the game they all just want to tip the ball. You can't win games like that. We will continue to work on that as well as our setting."
The night before North Newton fell to Griffith 3-0 (25-10, 25-18, 25-16).