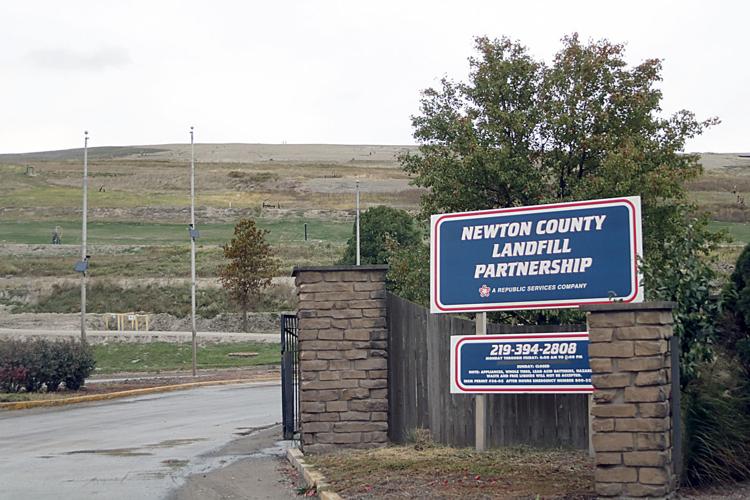 BROOK — Republic Services has applied for two permits to allow them to inject leachate — the liquid waste from a landfill — from the Newton County Landfill into the ground.
The U.S. Environmental Protection Agency (EPA) plans to approve a request from Republic Services for issuance of two Class I underground injection permits for two proposed new wells located within the Newton County Landfill.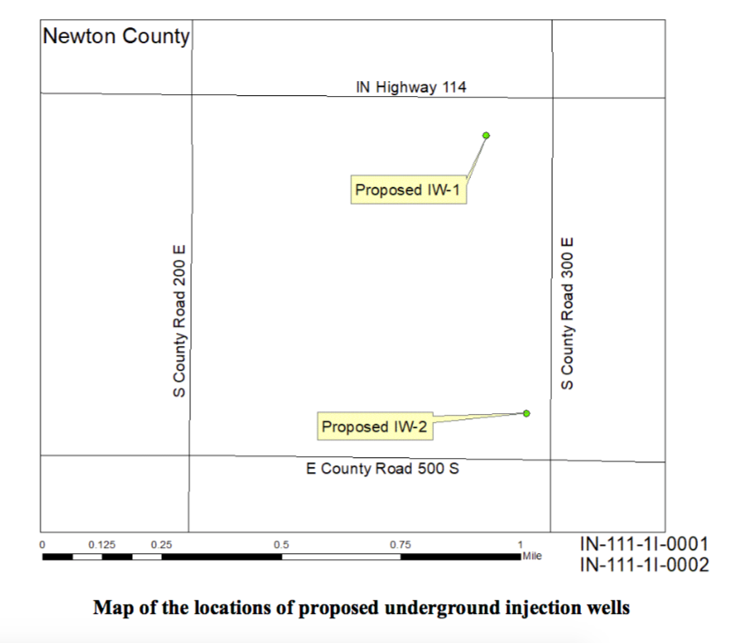 The two permits authorize the disposal of "non-hazardous" liquid waste from landfill leachate, landfill gas condensate, well maintenance and testing fluids, and stormwater runoff generated at the facility.
Federal regulations require Class I wells to inject waste into an area below the deepest underground source of drinking water. All Class I wells must be cased and cemented to prevent the movement of fluids into or between underground sources of drinking water.
According to the EPA Fact Sheet on Republic Services' plan, the injection zone for the two wells is the Mount Simon Sandstone, which is located 3,200 to 5,000 feet below the surface.
In Newton County, the base of the deepest underground source of drinking water is 790 feet below the surface called the Silurian-Devonian Aquifer.
The EPA Fact Sheet on the plans states that "there are adequate confining layers between the injection zone and the deepest source of drinking water to prevent the movement of injected fluids into underground sources of drinking water."
The EPA also says there are no other wells that penetrate that confining zone within a 2-mile radius of each proposed injection well, and they have set a limit on injection pressure to prevent fracturing of the injection zone rock formation. The maximum allowable injection pressure for each well was calculated by EPA by factoring the depth of the injection zone, the highest specific gravity of the injected fluid, and the fracture gradient of the rock formation. The calculated maximum permitted injection pressure is proposed to be 255 pounds per square inch.
"Review of the permit applications indicate no significant environmental impacts should result from issuing these two permits," stated the EPA.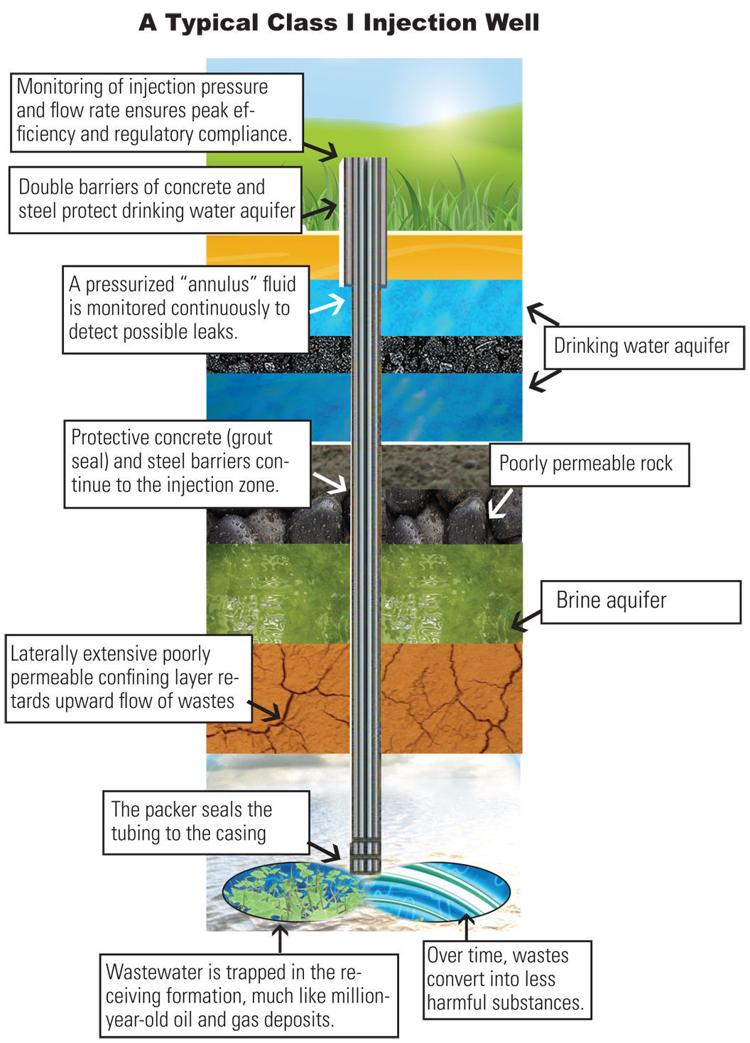 What is an injection well?
An injection well is used to place fluid underground into porous geologic formations. These underground formations may range from deep sandstone or limestone to a shallow soil layer. Injected fluids may include water, wastewater, brine (saltwater), or water mixed with chemicals.
Class I wells allow injection far below the lowermost underground source of drinking water. Injection zones typically range from 1,700 to more than 10,000 feet in depth. The injection zone is below and separated from the underground source of drinking water by an impermeable "cap" rock called the confining layer. The confining layer may be associated with additional layers of permeable and impermeable rock and sediment to separate the injection zone from the underground source of drinking water.
Every Class I well operates under a permit. Each permit is valid for up to 10 years. Owners and operators of Class I wells must meet specific requirements to obtain a permit. These requirements address the siting, construction, operation, monitoring and testing, reporting and record-keeping, and closure of Class I wells.
Currently, Republic Services pays millions of dollars annually to transport the leachate from the Newton County Landfill to be filtered and treated before the liquid is reintroduced into the environment in the form of clean water, according to a source from Republic services familiar with the process.
Leachate, who many call "garbage juice" has several noxious chemicals and elements that have to be filtered out, including ammonia, zinc, lead, mercury, and other heavy metals, as well as "whatever else that ends up in the landfill," stated the source, who asked to remain anonymous.
According to an EPA report, the probability of materials leaking from deep injection wells is very slim.
"The probability of containment loss resulting from a number of scenarios ranges from one-in-one-million to one-in-ten-quadrillion," stated the report. "Fluid pumped into a deep injection well is deposited far below any underground drinking water source, so even if it managed to escape its holding area, chances theoretically are slim it could somehow travel up through the rock to the drinking water source."
Some experts disagree with those opinions.
"There is no certainty at all in any of this, and whoever tells you the opposite is not telling you the truth," said Stefan Finsterle, a leading hydrogeologist at Lawrence Berkeley National Laboratory who specializes in understanding the properties of rock layers and modeling how fluid flows through them. "When you do these types of deep injection wells, you have changed the system underground with pressure and temperature and fracturing, so you don't know how it will behave."
A ProPublica review of well records, case histories, and government summaries of more than 220,000 well inspections found that structural failures inside injection wells are routine. Over a 3-year period, one well integrity violation was issued for every six deep injection wells examined — more than 17,000 violations nationally. More than 7,000 wells showed signs that their walls were leaking. Records also showed wells were frequently operated in violation of safety regulations and under conditions that greatly increase the risk of fluid leakage and the threat of water contamination.
Kim Ferraro, Senior Staff Attorney Hoosier Environmental Council, is familiar with the aquifer in Newton County as she is litigating a case against Natural Prairie Dairy with concerns of potential drinking water contamination.
"Anytime you are putting contaminants into the environment there is a risk," said Ferraro. "I have less concern with these proposed deep injection wells than with the threats posed by the large CAFO (Natural Prairie Dairy) that is located in Newton County. The injection wells are placed well below the lowest aquifer and there will be other protections. With that being said, the concrete casing and other things fail over time and should still be a concern for area residents."
In regards to the Natural Prairie Dairy, a Board of Zoning Appeals (BZA) public hearing has been set to hear the complaint against the organic dairy on October 27th, and as of the time of this publication was still on. However, Ferraro says "This date was selected by the BZA without consultation with both legal parties and is in violation of the court-approved settlement which requires that the date be mutually agreed upon by both legal sides. Given that this public hearing could be attended by a large number of people in the community, we feel it would be irresponsible to hold the meeting at this time. We're working to make sure this public hearing is held when it is safe for everyone to attend."
For the proposed deep injection wells, the EPA says it will hold a hearing IF it determines that there is significant public interest in one or more of the draft permits, based on written requests. If a public hearing is scheduled, a notice of the hearing will be published at least 30 days in advance.
The EPA is currently seeking public comments for the two underground injection permits. The public comment period closes on Nov. 16, 2020.
If you do not have access to email, please contact William Tong for instructions on how to comment.