BLOOMINGTON — One more step for Maggie Gutwein.
The Twin Lakes senior and University of Iowa signee bridged the gap between the indoor and outdoor track and field seasons Saturday in the Gladstein Fieldhouse at Indiana University during the 2019 Hoosier State Relays indoor track and field championship.
Gutwein placed fifth during the 3,200-meter run in a time of 11 minutes, 19.53 seconds. It was her second consecutive top-5 placement at the HSR — the Indians distance runner was third in 2018 in a time of 11:03.86. Gutwein was seeded eighth (11:33.5) after placing first at the West Lafayette Qualifier at Purdue's Lambert Fieldhouse on March 7.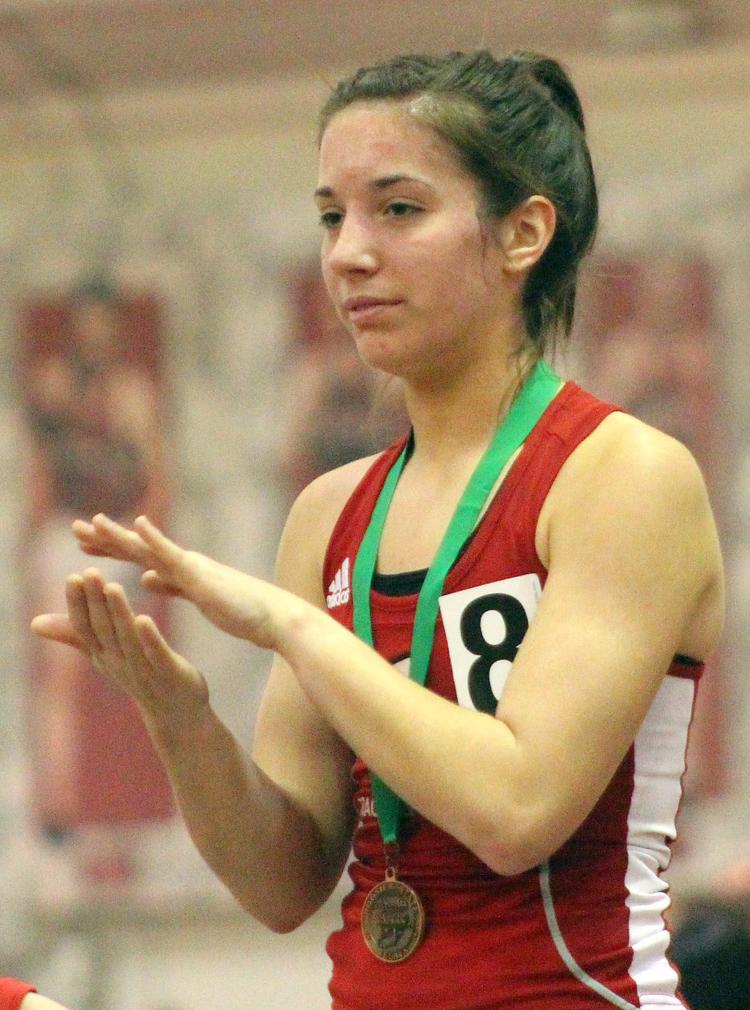 "Definitely a lot better than I hoped," Gutwein said. "I didn't want to get eighth, or lower. This was a positive for today."
Gutwein began the race somewhere in the muddled middle as the runners filtered into one lane after a few hundred meters, then pushed toward the middle a couple laps into the 16-lap race on the banked track.
Her first 800 split time was 2:40 and she was with the lead pack of six runners at the halfway point — 1,600 meters — with a time of 5:32. Gutwein pushed herself into fourth place for a few laps, then fell to sixth with roughly quarter of the race to go.
"Having those people pass you, you keep it in the back of your head to push those final four laps and know you have to let everything out there," Gutwein said after the race.
She moved back into fifth for good with two laps remaining, and held position to beat Wheeler's Hailey Orosz by nearly three seconds. Gutwein was 11 seconds behind Brebeuf Jesuit's Madeline Keller.
"I loved the finish that she had," Twin Lakes girls track coach Tonya Boer said. "The workouts that we've been pushing through, we're looking to build that speed at the end, finish hard. That was what I was looking for — to see that kick from her again, and we saw it."
Added Gutwein, "The last couple laps are usually kind of my harder-type laps to push through. But today I found that in me to push through it and just run the hardest I could for however many meters of the 400."
Boer felt Gutwein's start — where she didn't burst out ahead, but didn't get boxed in — was perfect for a meet of this caliber.
"You want to get yourself good positioning and not get yourself inside tight," Boer said. "She did a great job of getting herself up in the pack and giving herself the space she needed to make the progress she did. I was very proud of her for positioning herself like she did."
Gutwein becomes the latest Big Ten-bound Indians runner to participate in the 3,200 at the HSR indoor meet. Purdue junior Madeline Lilly placed top-6 in 2013, 2015 and 2016.
"I just wanted to run for myself, for the joy of running," Gutwein said. "I wanted today to feel good, run a better race than I have been (recently), and I did that. Now I have a little more confidence going into outdoor (season)."