Contact Us - Rensselaer Republican
Rensselaer Republican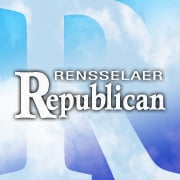 ---
Misty Longstreth
---
Anita Padgett
Marlene Taden & Charlene Malinowski
Legals
Legal Advertising Phone: 219-474-5532 
---
Phone: 574-583-4051
Weather sponsored by
Humidity:

95%

Feels Like:

28°

Heat Index:

35°

Wind:

9 mph

Wind Chill:

28°
UV Index:

1 Low

Sunrise:

07:06:17 AM

Sunset:

04:55:29 PM

Dew Point:

34°

Visibility:

4 mi
Today
Cloudy. Some light rain is likely. High 41F. Winds SSE at 5 to 10 mph. Chance of rain 70%.
Tonight
Rain and snow showers in the evening turning to all snow overnight. Low 31F. Winds SW at 10 to 15 mph. Chance of precip 80%. 1 to 3 inches of snow expected.
Tomorrow
Light snow during the morning will transition to snow showers during the afternoon. Some rain may mix in. Temps nearly steady in the low to mid 30s. Winds WSW at 10 to 20 mph. Chance of snow 70%. Snow accumulating 1 to 3 inches.