RENSSELAER — First responders and fire departments from Jasper County and beyond all responded to a massive blaze in Rensselaer's downtown mall Sunday afternoon. No one was seriously injured. 
Approximately 75 firefighters from numerous departments — including Rensselaer (Marion), Monticello, Keener, Wheatfield, Hebron, Morocco, Remington and Lake Hills — worked at the scene, along with Phoenix EMS and Rensselaer Police. 
A fire marshal investigated the site later on in the week, but the exact cause of the fire is not yet known.  
Virtually the entire building housing 22 city and county businesses and facilities between North Van Rensselaer and North Front streets, was destroyed or rendered unusable. The original structure, around which the rest of the building was constructed, was built in 1928.
The blaze began sometime around noon Sunday, launching a large, black pillar of smoke into the air visible for miles across town. Traffic cones and caution tape lined a perimeter of two blocks around the mall to keep crowds of bystanders away from the immediate area. 
While watching the blaze along North Van Rensselaer Street that afternoon, Mayor Stephen Wood was reminded of the fire that struck the corner of West Washington and South Front streets in the 1990s, where only a parking lot exists today.
"There were like three buildings there," he recalled. "It took all three buildings down."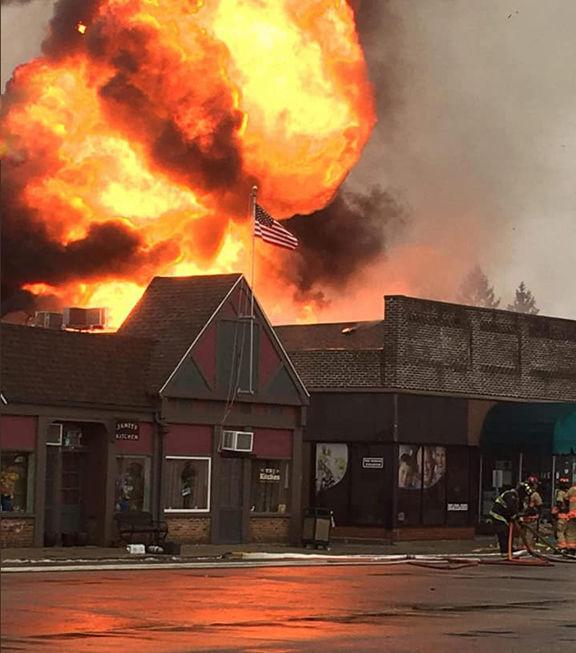 He later referred to Sunday's fire as "a real tragedy." 
By approximately 4:30 p.m., the vast majority of flames visible from outside the building had been extinguished, and firefighters were soaking the charred remains of the structure. 
Firefighters worked into the night to extinguish the last flames, which spread down to a basement area beneath the building. They also returned to the scene several times over Monday and Tuesday to stop the fire from rekindling. In the days following, people could still smell smoke from blocks away and see it wafting off the smoldering pile. 
Rensselaer Fire Chief Kenny Haun told local radio station WLQI that the fire started in the west end of the building and moved to the east end.
Haun thanked all the firefighters for a "good job," and said "it could have been a lot worse." He also gave thanks to Monticello and Remington's first responders for their aerial trucks. He said that one firefighter had received a minor injury.
As devastating as the fire was to many of Rensselaer's businesses, it also provided a stirring example of the city's resolve in the face of trials.
When the sun began to set Sunday evening, the prevalent smell of smoke was countered by another smell — warm pizza. Several citizens walked among the firefighters with open pizza boxes, offering fresh slices to the first responders who had been working for hours, along with water and other drinks.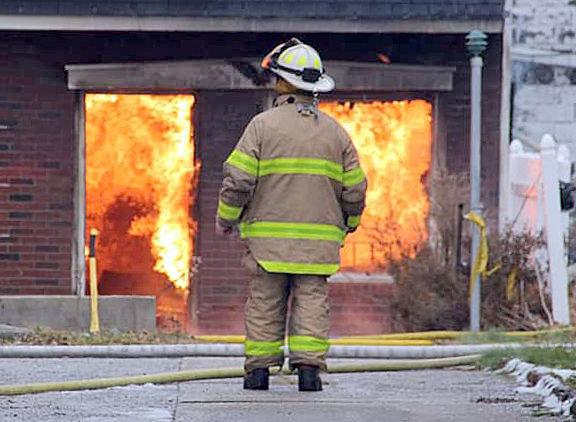 Other stories of civilians and businesses offering help spread online as well.  
Local business owner Butch Claussen said he ordered 30 cheeseburgers and 30 cups of coffee from a local McDonald's.
"When I went to get them and told (McDonald's) it was for the firefighters, they said, 'It's on us,'" Claussen wrote in a Facebook post. "Thank you, God, for a small town and the people who aren't afraid to help others."
Claussen then took his supplies downtown and yelled for help to get the food to the firefighters.
"(I) had more volunteers than I had bundles," Claussen said. "Love this town."
Jasper County's elected officials also voiced their appreciation for local first responders online.
"Thanks to all the area firefighters, EMS, police and those who responded to the devastating Rensselaer fire," wrote Jasper County Commissioner Kendell Culp.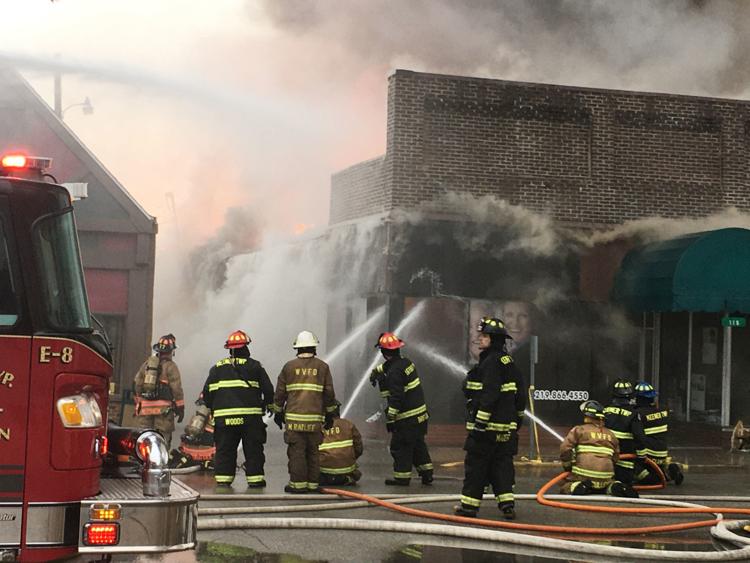 Jasper County Emergency Management and the American Red Cross set up operations in the basement of nearby Trinity United Methodist Church to bring more food and water to emergency workers Sunday night.
"When the city has a crisis, our community comes together," the church later wrote online. "On behalf of the city, Trinity United Methodist Church thanks you for your donations for the firefighters." 
First responders were thankful for the community's support.
"I am at a loss of words for this community as, once again, we all came together to get 'Rensselaer Strong,'" Rensselaer firefighter Brandon Denton stated online. "I love my small town."
Denton called it one of the biggest fires in his career so far.
"The community came together and got us snacks, food, a warm place to sit and cool off a little and take a break," he said. "Thank you so much. There are too many to list. It's unfortunate for the loss this town had but I'm glad to see how strong our city is when a huge tragedy hits home. Hats off the the RVFD to putting everything down and leaving our families for an unknown amount of time. And we still stepped up and did what we are trained to do. Thank you again, everyone!"
The Remington Fire Department was also grateful.
"We would like to thank the Rensselaer community for taking care of us (Sunday)," the department stated. "It's truly amazing to see how that community pulled together and cared for each other so quickly."
The Monticello Fire Department also expressed gratitude Monday for the community's helpfulness.
"(We) would like to thank the Rensselaer Fire Department and the Rensselaer community for your gracious hospitality we were afforded while assisting your agency Sunday," the department stated. "The food, drinks, refreshments and warm reception were all much appreciated. And a very special thank you to the Morocco and Rensselaer engines and engine operators who supplied more than 260,000 gallons of water to our aerial truck from the Iroquois River. A pleasure working with all of you."
With so many departments assisting Rensselaer at that time, there was a ripple effect where other departments even further away from the immediate area were asked to keep watch while their fellow firefighters assisted elsewhere. The Keener Township Fire Department was grateful for the regional support it received.
"Thank you to Hebron Volunteer Fire Department, Lincoln Township Volunteer Fire Department and Lake Township Volunteer Fire Department for standing by at our station to help protect the citizens of Keener Township," the department stated. "It truly is a pleasure to know you will help us when we go to assist another department."
Jasper County Prosecutor Jacob Taulman summarized the situation for Rensselaer online Sunday. 
"It is a sad day in Rensselaer and we continue to ask for prayers for the many firefighters involved," he said. "There aren't enough words of gratitude for the many agencies assisting and those coordinating behind the scenes. And though we mourn this loss, we remember the strength and great support of our community that make this a wonderful place to live."
The Rensselaer Volunteer Fire Department later expressed thanks to "everyone that assisted us in the recent downtown tragedy."
"(Thanks for) everything from surrounding fire departments to community support, food, dry clothes, our friends, families, supporters, city employees and prayers," the department stated. "You should know we gave it 100 percent and never gave up. We feel your pain as we lost several great business!"