WHEATFIELD – A ceremonial groundbreaking for the Kankakee Valley High School Corporation athletic field consolidation was held Saturday, Nov. 10 in what can only be described as brutally cold weather. On a sunny, 21-degree morning, members of the KV School Board, school administrators, and representatives of the architects and construction companies were joined by most of the coaches of the various sports that will be impacted by the project.
Context Design partner Fred Prazeau opened the ceremony with a welcome and an overview of the project. He spoke of the commitment of the school board to the safety of their student athletes and to the many other benefits to the school, students and community. He pointed out that the ceremony was taking place where the football and soccer field will be built.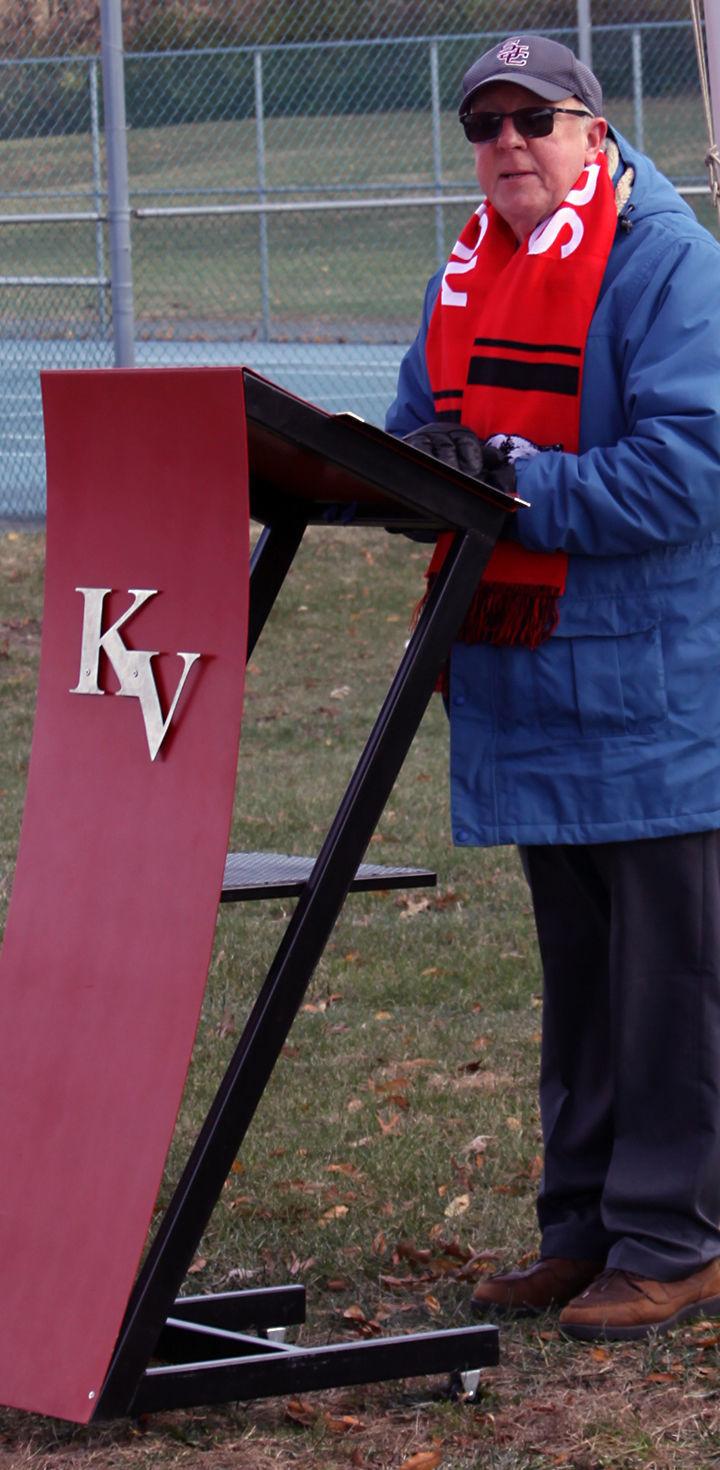 KV School Board President Edward P. Habrowski then offered remarks upon the occasion.
"We gather today to ensure our dreaming of the past, present and future will enhance the safety of our students, their families, and those who participate and attend sporting events," said Habrowski. "We gather today to symbolically dig up and turn over earth as we recreate this small section of Jasper County into fields of dreams for today's and future KV student athletes."
The board and other representatives then donned white hardhats and grabbed golden shovels to overturn several shovelfuls of dirt.
The project will move the football field to the east of its current location where it will become a multi-use field, also functioning as the Varsity Soccer field. Tennis and Varsity Softball will also relocate to the complex. Junior Varsity fields will also be constructed on the property and the school's parking shortage will also be addressed.
One item on the initial proposal that is currently in limbo is the construction of the Crown Jewel of the project, the Activity Center or fieldhouse. That project was placed on hold on Oct. 9 by the school board due to concerns over the proposed shuttering of coal-fired generators at NIPSCO's Schafer plant in Wheatfield in 2025. The board now awaits an analysis by the accounting firm of Umbaugh and Associates before deciding the future of an activity center at the high school.
Oh, and how cold was it? It was so cold that the representatives relocated to an area opened up by heavy equipment so that they could actually move some soil.