MOROCCO—North Newton served up 12 aces to make up for a slow hitting night to edge out Donovan 25-22, 25-12, 26-24 Tuesday (Aug. 28) night in non-conference prep volleyball action.
"We still need to work on our hitting, we were just no ton tonight," said North Newton coach Jessica Wynn. "We had some really good serving from a few of our girls and that came up big tonight. Defensively we got better as the match went on, which is good to see. We are improving and starting to mesh as a team."
The first set was close throughout as neither team held a lead larger than five points.
Donovan took a late 19-18 lead after a kill from junior Autumn Dewing, but North Newton finished off the set with a 6-3 scoring run for the 25-22 win.
Sara Will paced the North Newton attack with three kills in the opening set, while Dewing had three for Donovan.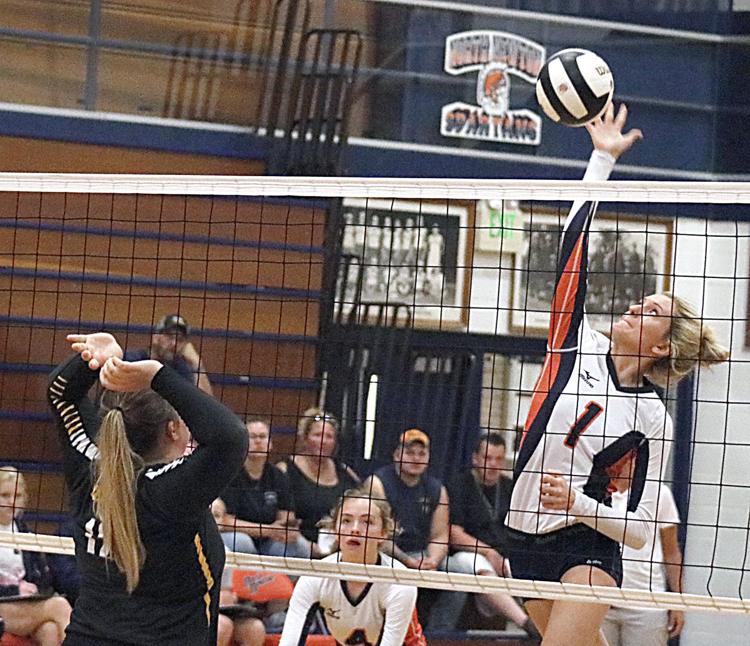 The Lady Spartans, leading 9-7, used a 12-3 scoring spurt to break open the second set for a 25-12 victory.
Hannah Hiscox had two aces during that run to lead the Lady Spartans, while Ashley Churchill also served up an ace, and Danielle Watkins and Keely Evans hammered down kills.
The decisive third set was the closest of the three as there were seven lead changes and the winner was decided until the final two points.
North newton, sparked by an ace from Sara Will, ran out to a quick 4-1 lead, but Donovan answered right back.
Ignited by an ace from Dewing, Donovan scored the next four points to claim a 5-4 advantage.
North Newton responded with a 7-2 run that was highlighted by kills from Evans and Watkins, and an ace from Jamie Will.
North Newton's lead would be short-lived as Donovan countered with a 10-1 scoring rally for a 16-12 lead.
Behind kills from Jamie Will and Hiscox, North Newton would go on to reclaim the lead 19-18.
The lead would change hands three more times as the contest was knotted up once again, this time at 24-24.
The Lady Spartans rallied off the next two points, which was finished off with a kill from Sara Will to earn the three set sweep.
Jenna McCann led North Newton with five aces, while Jamie Will served up four winners.
Sara Will finished with six kills, and sister Jamie Will added five in the win.
Also for North Newton, McCann had 18 digs,
Jenna McCann was 29/33 with 18 digs, Reese Fox added 8 digs and Hiscox finished with five. Marissa Schoon led the team with 6 assists and Ashley Churchill had five assists.
With the win, North Newton improved to 4-6 on the season.
Donovan was paced by Dewing as she recorded six kills. Kelly Davidson added three kills. Jackie Shill led her team with three aces.
Dewing and Anni Clatterbuck led their team with two blocks each, while Mackenzie Stahlschmidt was the setting leader with 12 assists.
The night before, North Newton swept Hebron in three sets 25-16, 25-18, 25-19.
Serving leaders were; Jenna McCann — 14/14 with 2 aces, Reese Fox 14/15 with 1 ace, Marissa Schoon was 15/16 and Hannah Hiscox was 10/10 with 3 aces.
Hitting leaders: Jamie Will was 18/22 with 11 kills. Sara Will was 14/16 with 4 kills and Danielle Watkins was 9/11 with 6 kills.
Passing leaders: Jenna McCann was 29/34 with 18 digs. Hannah Hiscox was 20/23 with 8 digs and Reese Fox was 19/22 and 9 digs.
Setting: Ashley Churchill was 23/27 and 6 assists and Marissa Schoon was 19/22 with 10 assists.