Perfection—that is the only word that can describe South Newton's Midwest Conference Championship run.
The Lady Rebels went a perfect 5-0 in conference games, while not losing a single set. South Newton secured the conference title Monday night with a 25-21, 25-20, 25-22 win over Frontier, who was also unbeaten in conference play at that point.
"Overall this was one of our better efforts all season," said South Newton coach Laura Robbins. "We had a great crowd for Senior Night and a tremendous atmosphere for the game."
In the opening set, some hitting errors led to a quick 5-2 deficit for the Lady Rebels. South Newton immediately responded with a 4-1 scoring run that was capped off with an ace from Elizabeth Garing.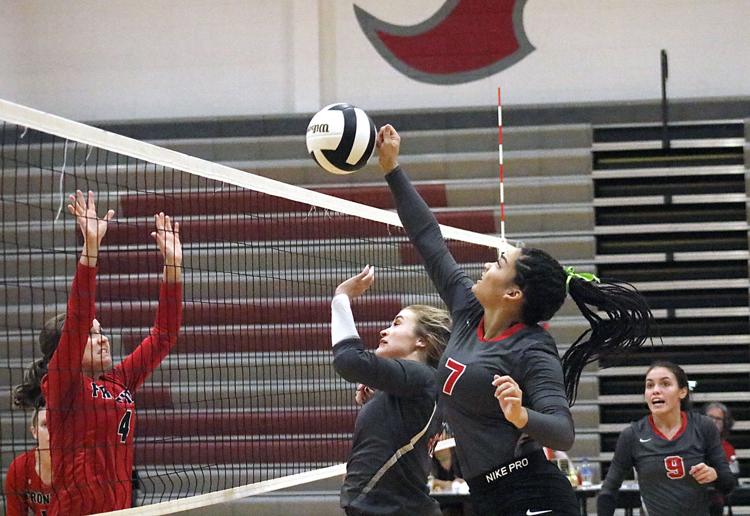 The first set would remain close through out, as the game was tied 15-15. A 7-2 scoring spurt, which was highlighted by two kills from Maddie Whaley and blocks from Samantha Warren and Malyah Embery, allowed South Newton to grab a comfortable 22-18 lead.
Frontier battled back to close with two points, down 23-21, but consecutive kills from Embery and Schriner closed out the first set with the 25-21 South Newton win.
The second set was again close from start to finish, this time it was when the game was tied at 19 that South Newton made its move.
The Lady Rebels closed out the set with a 6-1 run for the 25-20 victory. Whaley and Warren each had three kills in the set to pace the South Newton attack.
Frontier came out and took control of the third set early on. The Lady Falcons ran out to a 5-2 lead and eventually led by as much as seven points (17-10).
However, South Newton rallied to finish the match in the third set as the Lady Rebels outscored Frontier 15-5 the rest of the way for the win and the conference championship.
During that final run, Whaley slammed down four kills, while Schriner added three kills.
"In the timeout before that run I told the girls that we practice scenarios like this all the time," said Robbins. "The girls responded. They minimized their errors and just didn't let up until the match was won. They started to play to win instead of playing not to lose. Our mental toughness was on point and my setters did a great job in transitions. Defensively, we adjusted well to their attackers."
With the win, South Newton improved to 28-1 on the season.
Whaley and Schriner finished with 13 and nine kills respectively, while Warren and Kim Hall added four kills, and Embery and Claire Schuette each finished with two.
Hall and Schriner each had two aces in the win, while Hall also added two blocks. Garing finished with a team-high 16 digs, while Whaley finished with 15 and Schriner added 14. Hall led the team with 19 assists, and Schriner added 12, as she was one kill away from a triple-double.
In other action, South Newton rolled to a win at Clifton Central 25-15, 25-10.
Schriner and Warren each had eight kills, and Whaley finished with seven. Schriner served up three aces, and Garing added two. Whaley led the team with seven digs, Garing added six, and Schriner and Hayley Warne each had five. Hall finished the game with 11 assists, and Schriner added 10.