KENTLAND — A state historical marker was dedicated for the only governor to come from Newton County Saturday.
It was Newton County's second state marker dedication this year (the first was for Sam Rice) and the first for Kentland.
"Before we got approved for three markers, Newton County was one of only four counties in the state that didn't have a state marker," said Newton County Economic Development Director Tim Myers, who spearheaded the marker projects. "Not only do these markers help bring people to the county, but these markers also display important local history that a lot of people don't know."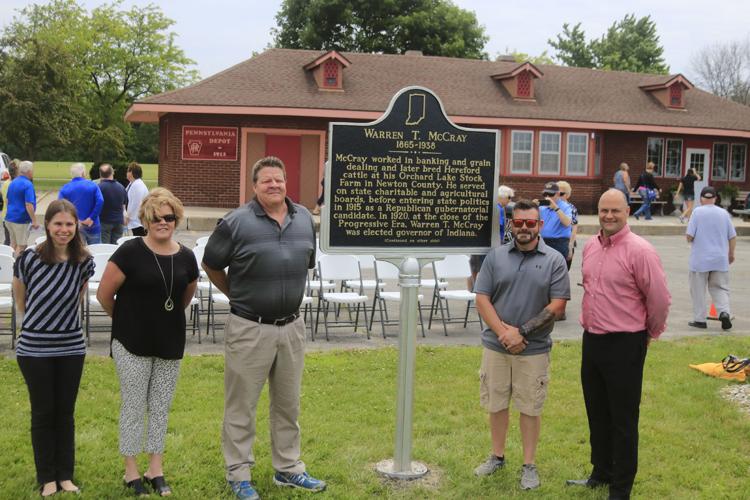 The latest marker, located near the Depot at Cast Park, recognizes Warren T. McCray and successful Newton County businessman and the 30th Governor of Indiana.
McCray was convicted of mail fraud and resigned from office on April 1924. He served three years in federal prison and was pardoned by Herbert Hoover in 1930.
However, it was what he fought for while in office and whom he fought against and ultimately led to his downfall that is part of a history story that is often not talked about.
"Instead of being remembered for his mail fraud conviction, I ask that people remember McCray for being a man with conviction for standing against the Klan (Ku Klux Klan) and their agenda," said Kealy Myers, member of the Newton County Historical Society, who spoke at the marker dedication.
Kealy Myers also said that McCray should be remembered for the legislation he fought to have passed through while he was governor, including an amendment to the state constitution that incorporated women's suffrage.
"These markers are part of a public driven program," said Casey Pfeiffer, historical marker program director at the Indiana Historical Bureau. "These markers really provide context on what was happening in the state during that time. I am thrilled to be able to commemorate Governor Warren T. McCray today."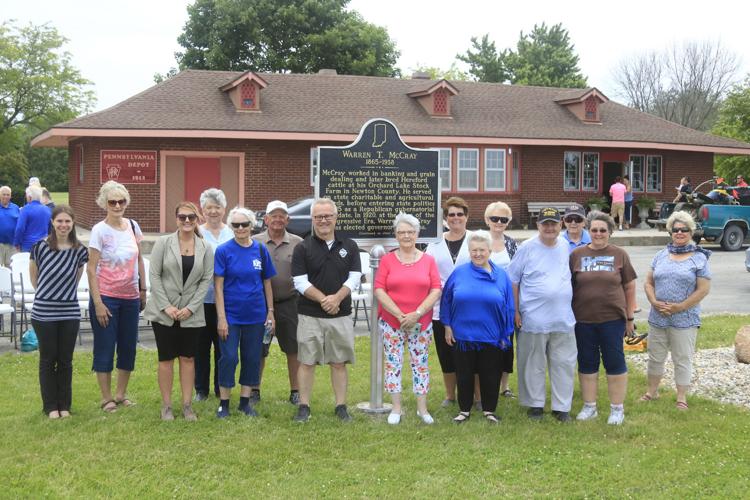 The Newton County Historical Society has additional displays of McCray at their office in Kentland.
Newton County's third state marker will be dedicated Sept. 14 at the George Ade Home in Brook for William H. Taft's Presidential Kickoff Rally that was held at Hazelden Sept. 23, 1908.
McCray was born near Brook on Feb. 4, 1865. At the age of fifteen, McCray finished his education and went on to work as a clerk in his father's bank, the Discount and Deposit Bank. He became a successful businessman, with interests in grain elevators, grocery stores, and Hereford cattle breeding. McCray entered public service in 1904, serving on the board of trustees for the Northern Hospital for the Insane, a position he held until 1912. He also served on the Indiana Board of Agriculture from 1912 to 1916, was chairman of the Food Conservation Committee of Indiana during World War I, and served as a trustee of Purdue University from 1917 to 1918.
McCray was also known as "The Hereford King," a multi-millionaire cattle breeder and owner of the 1,600-acre Orchard Lake Stock Farm, which sat near where South Newton High School is now.
In 1908, he paid $25,000 for Perfection Fairfax, grand champion of the 1907 International Stock Exhibition in Scotland. As herd bull, the "King of Hereford Sires" fathered many champions. When the animal died in 1920, McCray buried him atop a knoll on the farm. The 8-foot-high concrete tombstone, with a flagpole, is still there.
To keep the memory alive of the famous bull, Henry Coussens had a custom-made, fiberglass statue of Perfection Fairfax created and it now stands in the front yard of Coussens' home, on the property that used to be owned by McCray.
The Orchard Lake Stock Farm was a showplace for McCray, who also owned a nice house in Kentland. The stock farm also featured a house there, plus barns for cattle and horses, a chicken house, silos, storage buildings, a machine shop and a grandiose cattle pavilion that could accommodate 1,800. There, McCray hosted Hereford auctions that attracted wealthy buyers from all around the world.
Today, little remains of the stock farm. The centerpiece — the pavilion — was disassembled in 1996, hauled to the Wagner Angus farm near Wolcott, and rebuilt.
McCray won the 1920 Republican gubernatorial nomination and was sworn into the governor's office on January 10, 1921.
As governor, McCray partnered with Republican legislative supermajorities to generally roll back Progressive-era reforms and worked to limit state government to a few, essential tasks, such as education.
During his tenure, 87 public buildings were launched, a budget law that affected both the state and local governments was passed, the reformatory at Pendleton was initiated, and a two-cent gasoline tax was enacted with proceeds going to road maintenance and highway construction.
McCray's governorship coincided with the rise of the Ku Klux Klan in Indiana, whose membership at the time included nearly half of the General Assembly and some state elected officers.
McCray vetoed legislation that would establish a Klan Day at the Indiana State Fair, complete with nighttime cross burning, attempted to revoke the Klan's issued charter and refused a bribe to put more Klan members in state jobs. That is when the Klan decided to take him down.
Facing financial hardships, McCray was indicted in Marion County for embezzling state funds in connection with a $155,000-loan McCray received from the State Agricultural Board after a post-World War I farm price depression hit McCray's nationally-known cattle-dealing business hard.
His trial ended in a hung jury, but McCray was later convicted in federal court for soliciting private loans through the mail using fraudulent documents.
McCray resigned as governor minutes before being sentenced to 10 years in federal prison. He was paroled in 1927 and returned to his Kentland farm.
In 1930, President Herbert Hoover learned of the Klan connection to McCray's conviction and awarded him a pardon. McCray died in 1938. He was buried at the Fair Lawn Cemetery in Kentland, Indiana.