INDIANAPOLIS — More than 15,000 educators and public education supporters flooded the Statehouse Nov. 19 in a sea of red as part of the Red for Ed Action Day, organized by the Indiana State Teachers Association.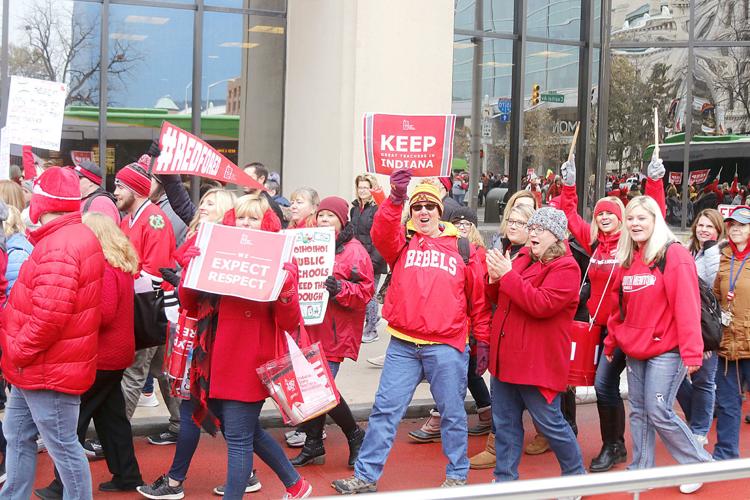 The historic rally, which saw more than half of the state's public school districts closed for the day, also included more than 80 current and retired educators from Newton County as both North Newton and South Newton School Corporations closed for the day, as faculty, the administrations, and school boards stood united in an effort to show state legislators the need for increased funding for public education.
The action day was planned to show legislators, who were back at the statehouse to kickoff the 2020 legislative session, that "enough is enough" which turned out to be one of the more frequent rally chants of the day.
"The legislature is trying to divide educators," said ISTA President Keith Gambill. "Sixty public school districts will see a funding cut under the state's current budget. The key issue is funding and the state has the ability to fix it. We are here today to raise our voices for our students, for ourselves, and for public education."
Gambill also called upon state legislators to tap into the state's $2 billion reserve balance to help fund public education.
"We are all here today to demand bold action from lawmakers," added Gambill. "If they don't, there's an election in November."
That statement during the rally was greeted by chants of "we will vote" and "we will vote you out of here."
"This one day you all are here to rise up and say enough is enough," said Gambill. "Today is truly a historic day to protect and defend public education in Indiana."
Some of the key issues Gambill touched on included that Indiana is 51st among states for teacher salary growth, teacher evaluations based on standardized test scores should be eliminated, and a portion of the state's revenue surplus should put toward public education.
"The right answer is not the Republican answer or the Democrat answer," said Gambill.
This rally, the largest in state history for public education, has been many years in the making.
Last March, another ISTA rally took place, but only had around 1,500 in attendance.
"I asked you last March what were you prepared to do, and you answered 'whatever it takes', and that is exactly what you did," said Becky Pringle, vice president of the National Education Association. "You have had enough of politicians deciding what is best for our students and our schools. For public education, we are demanding Indiana, that you do better."
The Red for Ed action day started before 8 a.m. and lasted till after 2 p.m.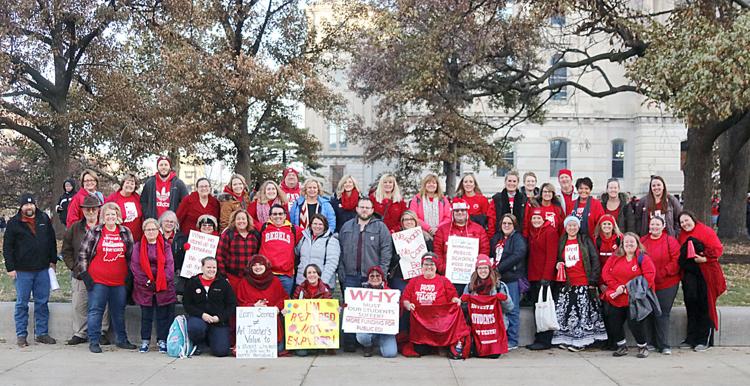 For Newton County, the educators made their presence felt as many traveled together via a charter bus filled with current and retired teachers from both North Newton and South Newton as well as some educators from Delphi and Benton Central.
"I thought the rally was awesome," said Blair DiRuzza, South Newton teacher and South Newton Education Association President. "My family and I came down for the spring rally and there were only around 1,500 people here. To be here and see the crowd today was amazing."
DiRuzza and many other local educators stated they hope the rally helps bring much-needed change for public education.
"It has taken other states doing a walkout to get things done," added DiRuzza. "I think this rally showed the legislators we are capable of that, but I hope it doesn't come to that."
State Legislator response
A day before the rally, Republican House Speaker Brian Bosma told reporters the teacher pay issue would likely have to wait until 2021, the next budget-writing year.
Bosma also announced that he would not be seeking re-election and that the last budget passed increased education spending by 2.5 percent for each of the next two years.
"Teachers don't always get all of the information," Bosma told reporters. " They're busy teaching in the classroom and not looking at the state budget."
However, many believe the education funds that were increased aren't spread equitably among schools and many districts didn't receive enough additional funding to keep up with inflation, while some districts will actually see less money.
State Senator Rick Niemeyer told the Newton County Enterprise that he meet with several teachers during the rally and the rally itself was well organized.
"They did a great job of planning and coming down to speak their mind on issues," said Niemeyer. "They have their concerns and I am listening. I think there needs to be more dialogue between educators and lawmakers. I feel we definitely need to address the ILEARN tests."
State Rep. Sharon Negele also met with local teachers during the rally.
"It was a pleasure to meet with local teachers and have a productive conversation about Indiana's education policies," Negele stated to the Newton County Enterprise. "We understand the challenges our educators face both in and out of the classroom and recognize the profound impact they have on our kids. As session approaches, I hope to continue these discussions as we work together to help our students and teachers."
Governor Eric Holcomb was not at the rally as he was in Florida for a Republican Governor's Association meeting but he did release a statement.
"Today is a great opportunity for educators, families and community members to express their voice at the people's house," he said in the statement. "I remain committed to finding long-term sustainable solutions to increase teacher compensation."
Earlier this year, Holcomb created a commission to study Indiana's teacher pay problem and look for solutions. It's expected to make recommendations to the General Assembly ahead of the 2021 budget-writing session.
State Rep. Douglas Gutwein did not respond to the Enterprise's request for a comment on the rally.