KENTLAND — Newton County now has its own drug-sniffing superhero in the form of a Giant Schnauzer, who was perfectly named Batman because of his big black ears.
Vince Lowe, Newton County Drug Task Force investigator and Batman just finished up their certification training in West Virginia Aug. 19 and the very next day the dynamic duo were already on the streets.
"In our very first traffic stop together, earlier today, he made a positive alert for marijuana, and that first stop resulted in an arrest," said Lowe.
Lowe, Batman, and Newton County Prosecutor Jeff Drinski stopped by the Newton County Council's budget hearings on Aug. 20 for a photo op and to say thanks for the funds that the council approved to purchase the dog. The county had been without a police K9 since December.
"Thanks to the cooperation with the county council, we were able to get funding for this much-needed asset," said Drinski. "Working together shows the shared commitment we have to attack the drug problem in this county."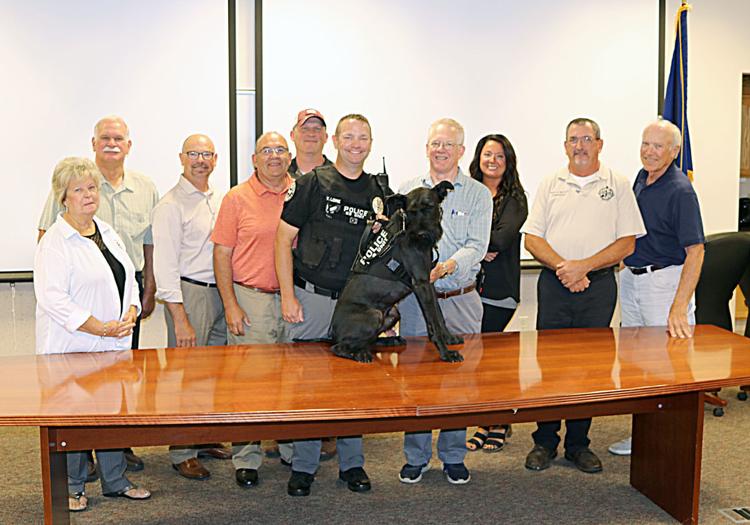 Lowe, a 21-year law enforcement veteran, is now a K9 handler for the first time, not because he never wanted to in the past — he just thought it was impossible.
"With my dander allergies I just didn't think it was possible to be a handler," said Lowe. "When I heard that Giant Schnauzers are hypoallergenic, don't shed and can be trained as good police dogs, I was all in. He will obviously be another great tool for as investigators. He will be able to alert us to things in the car way before we could be able to. Batman will greatly increase our ability to find and arrest drug traffickers here in Newton County."
Being born two years ago on April 20 (4/20) it looks as if Batman was born to be a drug-sniffing police dog.
"I am overly excited and can't wait to get out there and work as a team and do what we were both put on this Earth to do," added Lowe. "This is going to be a great asset not only for the Drug Task Force but for the entire county as we take another step in fighting the drug epidemic that we are seeing."
Lowe added the dog was already named Batman when they started the training. 'It wouldn't have been my first choice, but it has grown on me. I think it perfectly suits him now."