MOROCCO — Vicki Carlson started off just wanting to have a small garden shop near her home in Morocco. Nearly a year later and the Trumpet Vine is a successful garden and gift shop featuring the talents of 32 local artists.
"At first I just had some pallets of flowers and garden items in front of our back shed," said Carlson. "It has grown so much and I have enjoyed every minute of it."
One of the reasons for the shop's popularity is its uniqueness of not only the shop itself but also its one-of-a-kind items.
"I wanted to do something different, because there is nothing like this in the northern part of the county," said Carlson. "You would have to go to Rensselaer or all the way to St. John."
Carlson, a self described picker or junker, is well known around the area for her "green thumb" and her ability to liven up areas with her flowers. She used to do the garden shop at Murphy's Food King in Kentland and has adopted Betty Kessler Park as she keeps it spruced up with her floral pieces. Carlson also handles all of Morocco's flowerpots.
"I have just always loved flowers and I feel that I am contributing back to the town," added Carlson. "I will always do Betty Kessler Park, she was an amazing woman who dedicated her life to Morocco."
The Trumpet Vine got its name because of her husband's grandmother.
"Van's grandmother had a Trumpet Vine growing on her chimney and she loved it so much because it attracted hummingbirds," said Vicki. "A lot of this here is a tribute to her."
It didn't take long for the Trumpet Vine to grow from just a garden shop to what it is now.
"People started to approach me to be vendors here, and now we have 32 artists featured with a price range of $1.99 to $675 for items," said Carlson. "We truly have something for everyone and they are all local artists."
The gift shop at Trumpet Vine just celebrated its first anniversary this year with its second annual Christmas Open House this past weekend.
"The first year has been amazing," said Carlson. "The local response has been great and we have also seen a lot of traffic off of (U.S.) 41," said Carlson. "We have had numerous customers from Chicago and Indianapolis."
The open house showcased many holiday items including home decor, handmade soaps, lotions, vintage pieces, wreaths, candles, jewelry, casual clothing and much more.
Fresh cut Christmas trees, wreaths, grave blankets and poinsettias will be available after Nov. 23.
Trumpet Vine is also working on sprucing up the pond near its certified butterfly farm for next spring to go along with its wide variety of flowers and native plants.
"This is what my husband and I are doing with our retirement," added Carlson. "He's a pretty good picker himself and he's my partner in crime. I'm hoping this turns into a family business and can be around for several years. All the land here has been in the Carlson family for around 90 years, so we want to keep that going."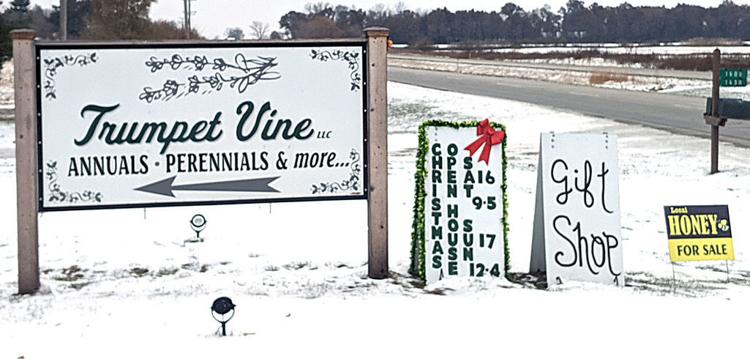 The Trump Vine's regular hours are Tuesday through Friday 9 a.m. to 6 p.m. and Saturday from 9 a.m. to 3 p.m. The shop is closed and open by appointment only from January through March. Trumpet Vine is located at 1430 S US 41, Morocco approximately three miles north of the intersection of SR 114 and US 41.