Gregg Hamilton and Curt Puetz were honored as this year's Citizen of the Year and Hall of Fame selection, respectively at the Kentland Awards Banquet May 15 at the Old Colonial Inn sponsored by the Kentland Area Chamber of Commerce and the Newton County Enterprise.
"Gregg is always placing others first and offers a lending hand when needed," said Mike Rowe, who nominated Hamilton for the Citizen of the Year award. "I have known Gregg for approximately 23 years as we entered the Public Safety profession. During that time, he has become a close friend. Gregg has continued at the Sheriff's Department/Courthouse showing his dedication to his profession for the last 23 years. Gregg is always showing a level of professionalism and respect for others while performing his duties. Gregg has volunteered to help coach several local youth sports teams as his children advanced through the leagues. He is currently assisting with the 14U softball team. Gregg's son, David is advancing through the Boy Scout ranks and Gregg was recently awarded a Scoutmaster position with the organization."
"In 2009, Gregg volunteered and was appointed on the Kentland Park Board. Gregg served on the board for approximately 5 years," added Row. "During that time he volunteered countless hours to the Kentland Parks system improving the quality of life for Kentland families. Gregg has attained and been an American Heart Association CPR Instructor for several years. Gregg has provided and continues several classes to our citizens and First Responders, teaching them the essential tasks needed to save lives. Throughout all of Gregg's local accomplishments, his best trait is always caring for his family, staying active in the community and treating everyone with the greatest amount of respect."
Hamilton said he was humbled and honored to accept the award and that he is proud to be a part of the community.
Puetz was nominated to the Hall of Fame by Kentland Area Chamber of Commerce Vice President Kirby Drey.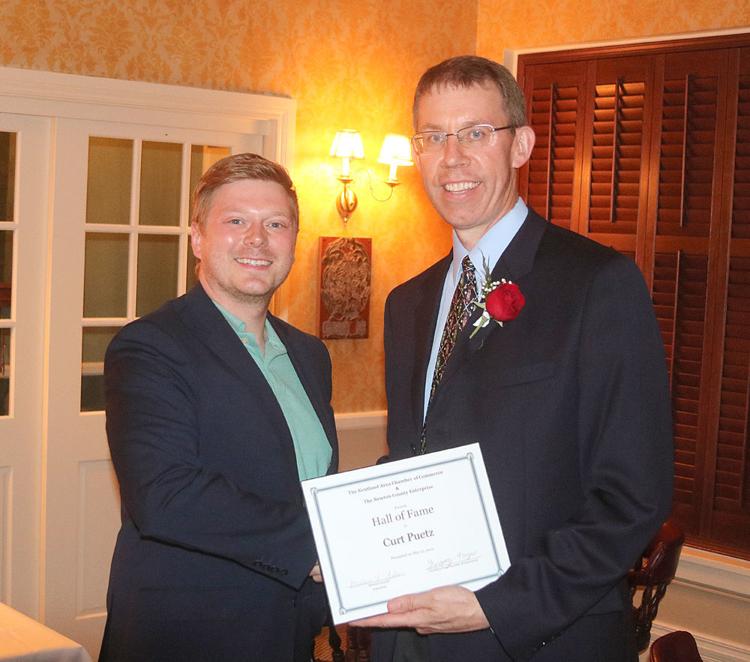 "Curt over the years has gone far and beyond helping our community," stated Drey. "Curt may not be a resident of Kentland however, he has shown his dedication and appreciation to our community over the past years he has been with Fowler State Bank in Kentland. Curt is currently a member of the Kentland Rotary Club, Kentland Retailers and Kentland Chamber. He takes the time out of his busy schedule to not only serve the Kentland community but is also pulling double duty in his hometown of Fowler. Curt is dedicated to making both of these communities better. As a member of the Kentland Chamber he has worked putting up Christmas lights at the fair and the lights around town, he has served pork chop dinners, worked and helped to plan the Casino Night, Texas Holdem' and euchre tournaments. Along with serving two terms as Chamber President, he has served many on the Kentland Chamber Board."
Along with participating in the chamber, he has been actively involved with the Kentland Retailers.
"Every year you can see him cooking up ribeyes, chicken, and burgers for the annual cookout," added Drey. "When he is not serving food for the retailers he is involved with the Kentland Rotary club and practices his skills of flipping pancakes, egg mixing and serving breakfast to the local community along with working various community service projects that the rotary sponsors for our local community. Curt will always make time to sit down with you for a talk about our local community and help out in any way that is needed if asked."
Puetz said that he has enjoyed helping out the community and always strives to have fun while doing so.
"My parents showed myself and my siblings how important it was to be a part of something," said Puetz. "Whatever you choose to do, make a difference."