BROOK — On the same ground that more than 25,000 spectators stood nearly 111 years before, a dedication ceremony took place Sept. 14 immortalizing the 1908 Taft Presidential Kickoff Rally at George Ade's Hazelden residence.
The historical marker was the third dedicated in Newton County this year, following the Sam Rice marker in Morocco and the Gov. Warren McCray marker in Kentland.
"This was such a historic event," said Kay Babcock, of the Newton County Historical Society. "This really was one of the most extraordinary things that George Ade accomplished while here in Newton County. The Taft Presidential Kickoff Rally helped put Brook and Newton County on the map."
However, this historic event almost didn't take place in Newton County.
Ade, a beloved Indiana author and a dabbler in local politics, had also served as a delegate to the Republican National Convention in Chicago that nominated Taft as well as a member of the Notification Committee.
But he was not aware of any plans to host a rally. When he awoke at Hazelden the morning of Aug. 20, 1908, and read the Indianapolis Star, he received somewhat of a shock. The front-page headline read, "Ade's Farm Rally Will be Big Event." Ade later wrote that he recalled a casual conversation with Chairman Charles Hernly about the possibility of a political picnic. However, they had not had formally planned any kind of function, let alone one that Hernly described to reporters as "the biggest Republican event Indiana will see this campaign."
Ade was at first reluctant to host such a large event; however, he wanted to support the Republican Party. Taft accepted Hernly's invitation and announced that his national tour would begin Sept. 23, 1908, at Ade's estate.
"Newton County was less than 50 years old on the day of the Taft rally," said Kyle Conrad, Newton County commissioner, Iroquois-Washington Preservation Commission member and George Ade Historic Preservation Commission advisory member. "Taft focused his speech to the ag community here and for the following six weeks continued to take his campaign to the people. This new style of campaigning has been in use ever since and it started right here in Newton County — by accident."
Other speakers for the marker dedication included Mike Davis, who gave a background on Ade's career and life; Krissy Wright and Kealy Myers, who talked about future plans for George Ade's home; Jill Weiss Simins, of the Indiana Historical Bureau; Janet Miller, Iroquois-Washington Preservation Commission Member; and Tim Myers, Newton County Economic Development director.
"The George Ade Historic Preservation Commission is committed to maintaining and promoting this beautiful home and the history it holds," Wright said. "We are working on attaining grant funding to do a large restoration project, which will include revitalizing the gardens and placing a life-sized bronze statue of George Ade within the gardens. We are also working on putting up a modern ADA compliant pavilion. This dedication is the first step of raising local and national awareness of George Ade and Hazelden.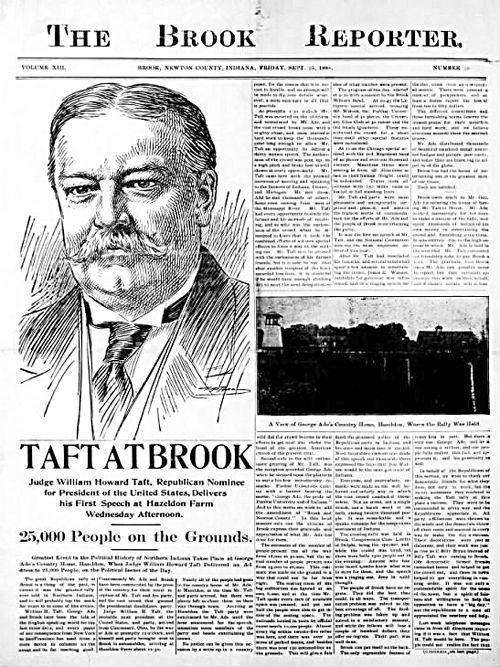 The day included elaborate decorations, music, fireworks, a barbecue, and speeches by local politicians. Thousands of farmers and their families attended. Taft spoke directly to their concerns, assuring them that the Republican Party was working to increase farm prosperity through maintenance of the gold standard and programs like free rural mail delivery.
Taft's strategy was successful in Indiana and the country. While Democrats swept the state ticket, Taft won Indiana by more than 10,000 votes. He won 321 electoral votes and 51.6 percent of the popular vote — an overwhelming victory.
Taft was inaugurated March 4, 1909, as the 27th President of the United States and served until March 4, 1913.