Sometimes the real superheroes are the people who draw them.
They don't wear capes or masks or brightly colored costumes, though they are relatively unknown to the general population.
Nor do they possess a superpower; only an artistic skill they use to raise money for a charitable cause.
Enter Cory Hamscher. He recently made an appearance at Creative Comics, Monticello's newest comic book store at 415 E. Washington St. next to American Legion Post 81, to help raise money for the American Diabetes Association.
Hamscher, along with fellow artist Matthew Waite, charged $20 for each sketch they drew for visitors to the store Aug. 3. It all went to the ADA.
The event, which raised $350, was organized by Creative Comics' owner Jim Rhone, who also owns a similarly named store in Griffith.
"This is amazing because I know a lot of comic book shop owners who don't do anything like this," Hamscher said. "(Rhone) runs the kind of stores that are all about the people and the fans. It's cool that he's going the extra mile to help."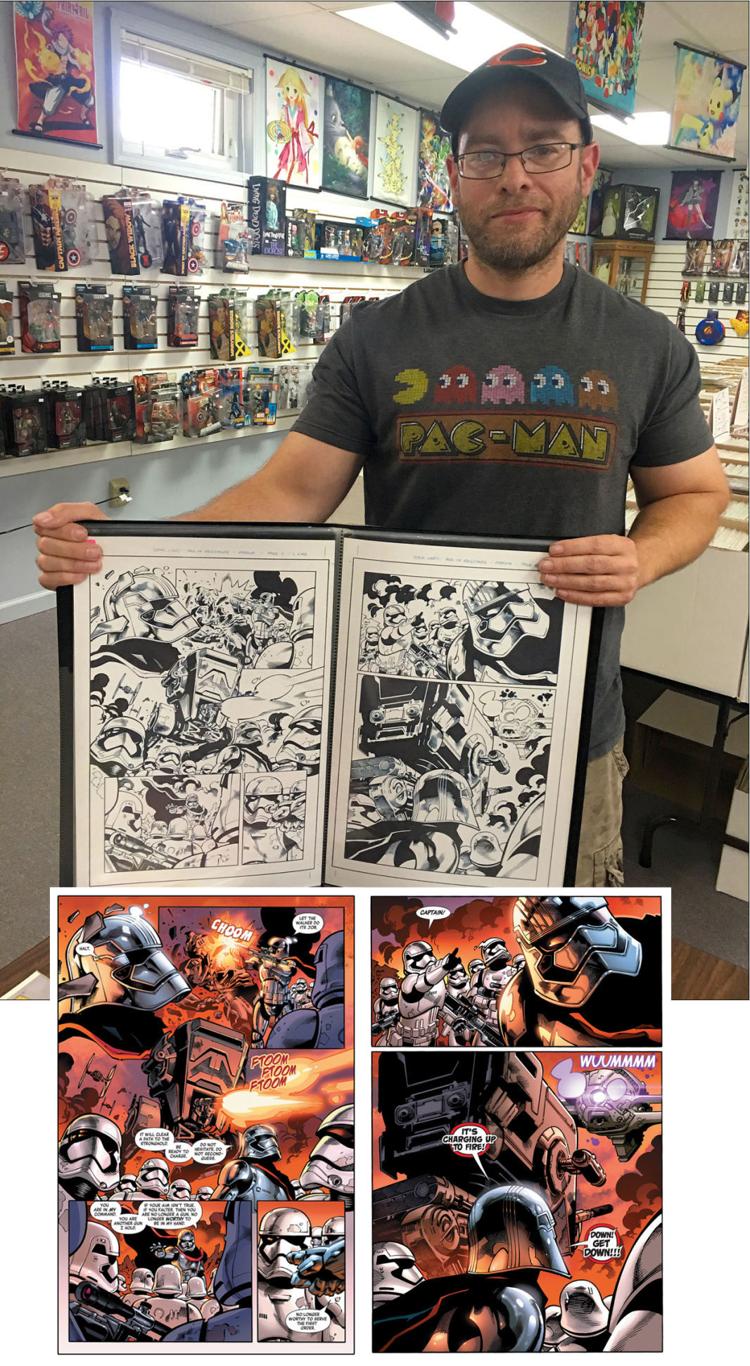 The latest Star Wars sequel trilogy has a well-known Hoosier connection via Adam Driver, who plays Kylo Ren (a.k.a. Darth Vader's grandson). He was raised and attended school in Mishawaka.
Jake Lloyd, who played 9-year-old Anakin Skywalker (later known as Darth Vader) in "Star Wars Episode I: The Phantom Menace," graduated from Carmel High School near Indianapolis.
And John Tyler Christopher, of Lafayette, designed, among many other things for Marvel Comics, the cover for 2018's "Star Wars: Beckett," based on the Tobias Beckett character played by Woody Harrelson in "Solo: A Star Wars Story."
His most recent work involves drawing characters from that well-known galaxy far, far away. It's known as the "Star Wars: Age of Resistance" line of one-shot books — a mini-series, if you will — that focuses on the heroes and villains from the sequel trilogy "The Force Awakens," "The Last Jedi" and the upcoming "The Rise of Skywalker."
"The editor who hired me for my very first Marvel job in 2006 … is in charge of all the Star Wars line of books and he hooked me up with four one-shots," Hamscher said.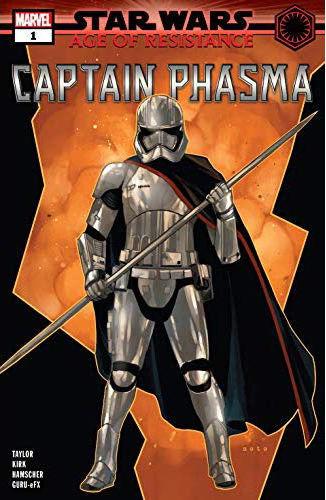 Drawing for the Star Wars series of comics is a bit different — and more stringent — than working on the classic Marvel Comics characters, Hamscher said.
"With the Star Wars books, there is so much detail in the ships and the characters. All the details have to be perfect," he said, noting that in addition to Marvel Comics editors, his work also has to be screened by the folks at Lucasfilm. "I can draw a good Vader and a good Boba Fett because that's what I always drew, but the ships and all the stormtroopers — all that kind of stuff — takes a long time to get right."
Hamscher then pointed to an 11-by-17 sketch in the soon-to-be-released "General Hux" issue, which depicts a large spacecraft parked on a grassy knoll with two characters walking up the plank onto the ship.
"See that," he said, pointing to the two characters. "Lucasfilm said the dimensions are not correct in this and I had to make them smaller in comparison to the ship. The characters here should be about the size of a blade of grass."
Hamscher sketches and inks his comic book pages on an 11-by-17 canvas. It is then reduced to a standard 6 5/8-by-10¼ inch comic book page size, which he said gives it "even more detail."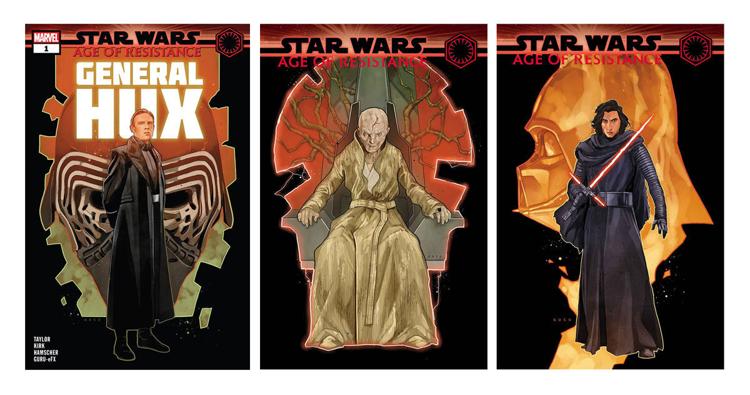 In all, there are about five people involved in the creation of a comic book — a writer, penciler, inker, letterist and colorist. The writer produces the script for the book; the penciler draws the sketches in accordance with the script; and the inker defines the lines of the sketch and enhances the work with black ink or ink washes.
The letterist is responsible for "word balloons," dialogue and sound effects, while the colorist adds, well, colors and renders it via Photoshop.
"Usually, there are two artists on a book because there is so much work that has to go into it to keep it on a monthly schedule," Hamscher said. "I usually do all the work myself — pencils and inks. My editor really loved my inks and started feeding me more work."
Hamscher said being a "penciler" is similar to that of a film director.
"Instead of filming with a camera, we film with a canvas," he said. "The penciler decides the angles, extreme close-ups, bird's-eye views … whatever tells the story the best."
So how long does it take to create a comic book page sketch?
"If I'm just inking a page, like the Star Wars stuff, it takes about five hours per page because it's so intricate," he said. "When I'm doing my own work — pencils and inks — I can do a page in five or six hours, from start to finish. My stuff is more loose and based off of shorthand. Between five to eight hours total is the max for a full-size 11-by-17."
Once he's completed his sketches and inks, Hamscher uploads it to an FTP site at Marvel, where the letters and colors are added, in addition to the final edits. His original sketches on the 11-by-17s are his to keep, sell or do with whatever he wishes.
A visit to the Marvel Comics website features most, if not all, of Hamscher's work in its final comic book form.
Hamscher said he was first contacted about contributing work in 2006 based on sketches he had previously submitted while searching for a drawing job. He received his chance when another artist "bailed" during the middle of a project and Marvel needed a quick fix to the dilemma.
"My first Marvel pencil and ink job, I had 18 days to do a full issue. I was able to get it done," he said. "It was kind of sloppy but I was able to get it done. That's what kept me getting more work because I was able to turn around something so fast and not have it be total garbage. That's what kept me going because I wasn't that good. I got better and kept getting more work.
"(Marvel) knew I could draw because I was sending them samples before I got hired. They let me do it. They really didn't have a choice other than to make the book late — and you don't ever want to do that."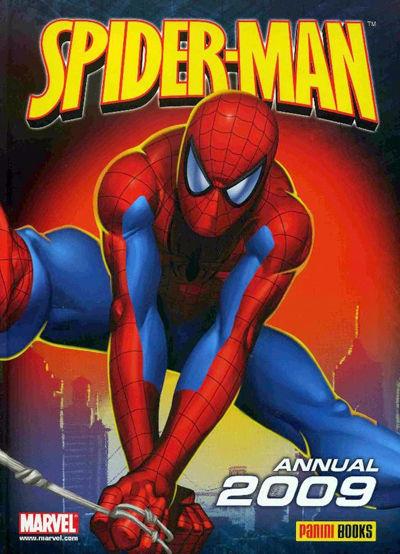 "My son was 3 at the time and we were buying the (Marvel Adventures) books for him. Then I got hired to do those same books. It was super cool," he said.
By coming through in a pinch and hitting deadlines with relative ease, Marvel unleashed more projects on Hamscher.
"People like my inks and my ability to hit deadlines," he said. "That how you get the jobs and keep getting the jobs after that."
His favorites: Spider-Man and Hulk.
"I had a chance to do them right away," Hamscher said. "Those were my 'Big Two' as a kid, but I've had a chance to touch most of the major comic book characters."
He said there has never been an issue with having a creative block.
"When you work for a Marvel or a DC, you kind of know how to problem-solve," he said. "It's like a math problem. You lay things out in order and it usually adds up."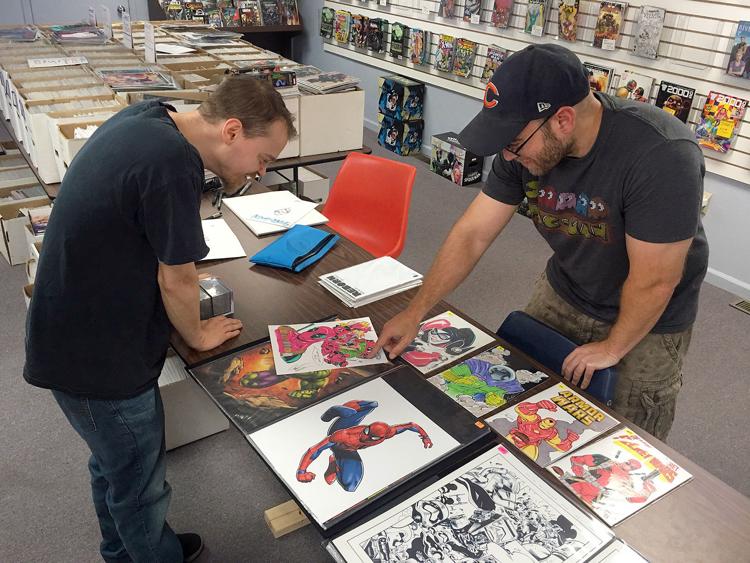 As for raising money for diabetes, the challenge Hamscher said he faced was being able to quickly think on his feet and draw on sight with certain requests.
"I draw superheroes all the time and people like caricatures of themselves (as superheroes). I can do that, but it's not something I normally do," he said. "I had someone who wanted their dog drawn as a superhero."
Hamscher said he's drawn gorillas, bears, lions and birds, which he said are "fun" and he loves drawing them.
"I don't draw too many dogs. You don't see too many dogs in comics," he said. "This person wanted their particular dog so I had to draw the markings of that dog … as a superhero."
Hamscher said he didn't feel he did a good job with it, but the patron seemed delighted.
"I was sweating bullets on that one. I didn't think it turned out good, but they loved it," he said. "Most people love everything, which is nice. That was definitely a challenge."
Hamscher plans to make more public appearances for special causes, as well as take on commissions.
"I enjoy coming out and being around friends who are having fun," he said.