MONTICELLO — A high school guidance counselor is trying to get Twin Lakes School Corporation to join a growing trend of adding a trained and certified therapy dog to help students in the classroom.
Twin Lakes would be the first school in White County to have a certified therapy dog program.
Samantha McAtee, director of school counseling at Twin Lakes High School, had initially approached the school board during a November work session detailing the benefits of a therapy dog — at no cost to the school — to help students learn as well as become more comfortable and sociable in school.
"There are kids in our building who never say a word to another human being," she said. "A dog can be the reason that our students interact with one another, no matter race, gender or socio-economic status. If they just have the dog to connect with, that's socio-emotional learning."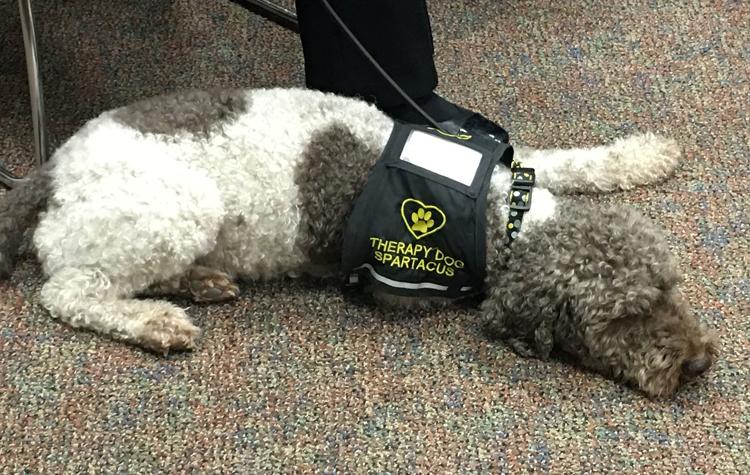 According to her presentation, McAtee said research has shown therapy dogs "support psychological and academic growth while increasing social skills and self-esteem in children and adolescents" and "therapy dogs have been trained to provide emotional support which positively impacts reading skills, emotional functioning and communication skills."
McAtee said ways the therapy dog can be used at school include:
Having a positive presence on campus.
Working one-on-one with students having a hard time, working through grief, anxiety, life changes, trauma, etc.
Working with students in group counseling settings.
Reading/working with reluctant readers or workers.
Visiting classrooms.
Providing presentations at all grade levels about the work of the therapy dog team, if allowed.
Serving as an incentive for students at all grade levels.
Providing stress relief during high-stakes testing.
Acting as a goodwill ambassador at various school and community functions to advocate for Twin Lakes School Corporation.
Part of McAtee's presentation included a statement from Angela Bieghler, a school counselor at Delphi Middle School, who said therapy dogs were brought in to help students deal with the February 2017 killings of their classmates, Abigail Williams and Liberty German.
In her follow-up presentation Dec. 5, McAtee said she will shoulder all of the estimated $650 cost, which covers insurance, pet care, training and a therapy dog vest. She said $471 of it is a one-time cost.
"I'm paying for the entire thing," she said. "I'm not asking you guys for any money. I'm just asking for an opportunity to try this. I'm asking for a chance to do this for our kids and for our staff."
And even though she would be the designated handler, McAtee said therapy dogs are trained to follow the commands of whomever is handling them at that moment.
All but one school board member — Jeff Milligan — at the November work session were concerned the addition of a therapy dog would add more responsibility for McAtee and take away counseling time from students.
"I don't think it's going to be that intrusive," Milligan said in November. "The way I see it, we have an employee who has taken the initiative to do something and we ought to give them a shot to see if it'll work. I understand your concerns but unless you try it, you don't know."
"The dog is a tool, not a distraction," McAtee said.
After the November work session, a discouraged McAtee made visits to Valparaiso and West Lafayette schools to talk with administrators and students about those district's therapy dog programs.
"None of them reported that (the dog) interferes with their ability to do their administrative duties," McAtee said Thursday.
To bolster her presentation, McAtee invited Dr. Amber Targgart, West Lafayette Elementary School principal to explain to the Twin Lakes board the benefits of a therapy dog.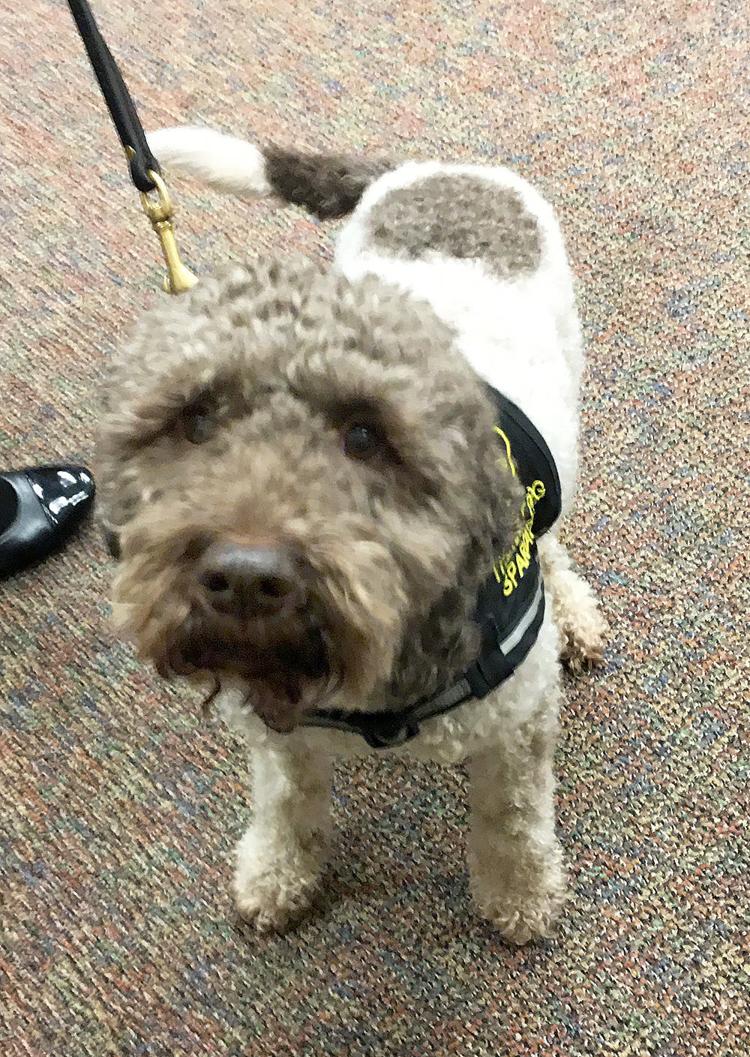 Tarrgart also brought along Spartacus, an 8-year-old Lagotto Romagnolo (Italian water dog) the school uses as its therapy dog.
"(Spartacus) is everything that I can't be," she said. "When we have a child in crisis, I don't care if they're 5 or 15, the last thing they want to do … is to talk it out. I have a dog that is trained to go to that person and, by licking an ear, sticking his nose in their face or doing something that dogs do naturally, (Spartacus), in three minutes, can stop a situation that would take me 30 minutes."
She said children have opened up and talked with the dog in ways they wouldn't with a teacher or other adult figure.
"It was solely because Spartacus was being a dog and being there," Targgart said. "He has definitely made my world more efficient in a lot of ways, but more effective."
Targgart said therapy dogs are trained to be comfortable doing nothing for long periods of time.
"When I need to do my job, I can set him aside and he is expected to be calm throughout the day," she said. "There are days when, from 8 a.m. to 3 p.m., I've had meetings, phone calls, interviews and everything that comes with being an administrator, and he sat there that day. He was not utilized — and that's fine. That's his job — to be there when he's needed."
Earlier this year, 411 students and 25 teachers responded to an anonymous in-district survey about the possibility of having a therapy dog.
According to McAtee, 324 students (78.8 percent) felt the high school would benefit from having one, and 326 (81.8 percent) said a therapy dog would help reduce stress, anxiety, depression and loneliness while at school.
A little more than 46 percent of students said they struggle with depression, anxiety, bipolar disorder, have suicidal thoughts, ADHD, autism or other mental health issues.
The survey also revealed that 291 students (70.8 percent) would be willing to visit the counseling office if a dog were present. Only 11 students (2.7 percent) said they have a dog allergy.
Among teachers, 24 said students and teachers would or may benefit from having a therapy dog available; 19 indicated they would/may take advantage of having the dog in their classroom; and four teachers reported having a dog allergy.
Kinnard, who brought up concerns about additional workloads for McAtee during the November work session, said Thursday she would like to see a more comprehensive program in place before a dog is brought into the schools.
"It's like giving someone a computer without having any software to go with it," she said. "It's not about not loving dogs and not wanting a dog. At this point, I just see it as, 'Ok, here we are with a dog.'"
It's unclear if the therapy dog issue will come before the full school board Dec. 10 for its regular meeting. McAtee would need four favorable votes to move forward with her plan.
"I did the best I could," she said via email Friday. "We shall see."