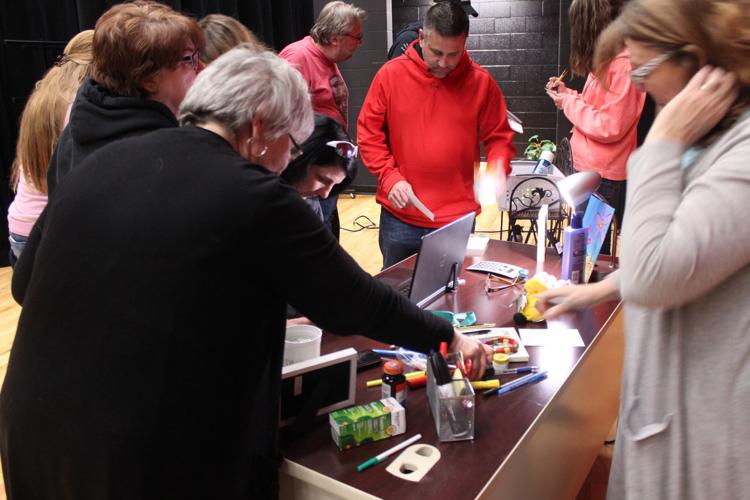 WHEATFIELD — The Jasper County Purdue Extension Office and the Coalition for a Drug-free Jasper County sponsored a seminar for anyone who has children or works with them on the clever ways teens and younger can hide risky behaviors in "plain sight."
There were about 65 people attending the two-hour program with the crowd broken into three groups.
Each group had the opportunity to search through a display of items often found in the bedrooms of children and were challenged to find any contraband hidden.
Items, including vaping devices and vaping cartridges, were among the items that look like computer flash drives and can be plugged into a USB port for charging. "Booze tubes," clear plastic tubes that resemble those found in tampon boxes were uncovered, hiding inside a tampon box.
Extension educators said girls will hide items in their tampon boxes or pads because they don't think parents will look there.
Other items were found sitting on a mock desk, including stuffed animals with hidden pockets where drugs or alcohol can be stored. A computer mouse had a hidden compartment with a scale for weighing grams of drugs. Cans that resemble soda drinks have a false bottom that can be used to stash drugs or alcohol, and smoking materials.
A highlighter disguises a pipe for smoking drugs and there were bracelets that became pipes as well. All of these items can be easily bought online or in stores.
The soda cans are sold as containers to hide money or jewelry. Other items are clearly made for drug use, although marketed as something else.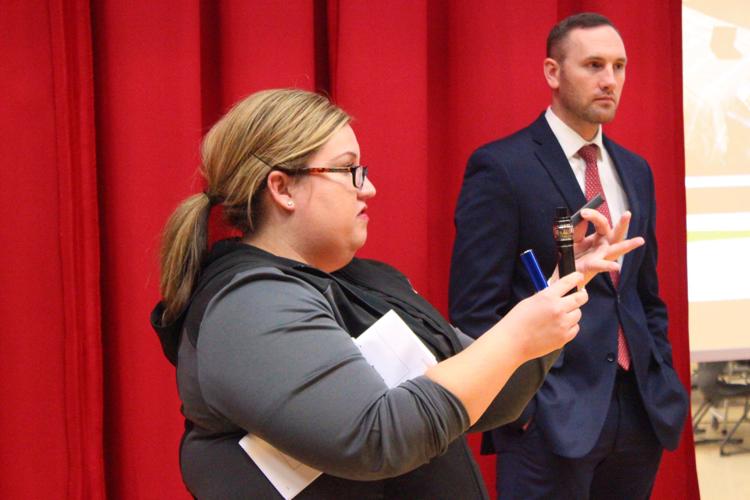 E-cigarettes and vaping pipes come in a variety of shapes and sizes. The cartridges come in flavors and are mixed with chemicals that are currently unknown. Extension educators said it is an industry that the government hasn't had time or money to study or stop. They added that the cartridges contain higher concentrations of nicotine and can be very harmful.
Marijuana can also be used in vaping, and can be bought legally in Michigan for medicinal use, but is finding its way into Indiana and sold to children — some as young as fifth grade are using these ENDS (electronic nicotine delivery systems).
A Juul, one brand of the ENDS, sells for around $50 and can be sold on the black market for $60 to $75. Kids can go online and buy them with gift cards from Amazon or other online shopping sites.
One of the educators went online to see how easy it would be to buy one. She said she only needed to send a picture of her driver's license, which a child can easily do, and that was all she needed to purchase one, as well as the cartridges that go inside.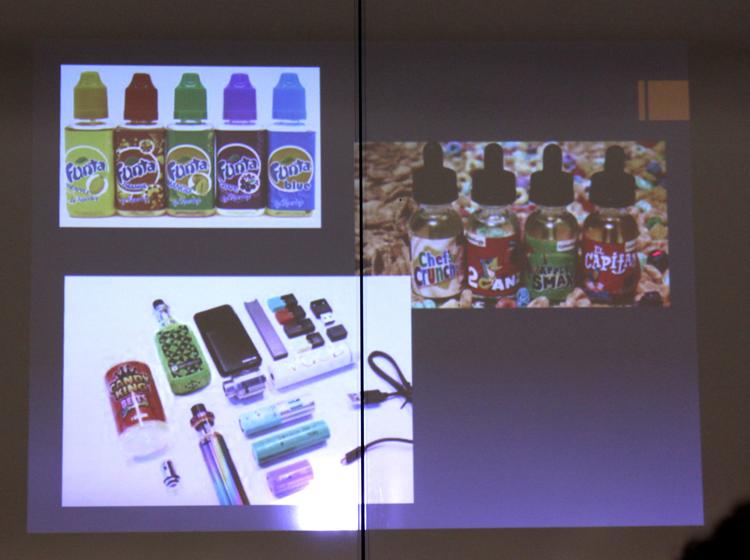 Extensions educators said alcohol can be consumed without drinking it. Kids and adults soak gummy candies in alcohol and eat them to get high. They can put a bottle up to the eye and pour it, and males and females can soak a tampon in alcohol and insert it into an orifice to get high without having alcohol on their breath.
There are also forms of powdered alcohol that can be ingested as well, the educators said.
In additions, there are edible marijuana products for sale. Some of these items are more powerful than smoking a marijuana joint, educators said. There are even "wax dabs" made of marijuana and synthetic marijuana.
Even over-the-counter drugs can be abused, including cough syrup, educators said. The ingredient Dextromethorphan can become a hallucinogenic when consumed in higher dosages than the recommended amounts.
Educators encouraged parents, grandparents and care givers to clean out their unused medicines to prevent them from getting into the hands of children.
The DeMotte Police Department and the Jasper County Sheriff's Office have containers for prescription drugs to be dropped off and safely disposed. The drugs should not be flushed, law enforcement officials said, because they can enter the water systems and become harmful to wildlife and eventually make their way back into drinking water.
Groups discussed risk factors and protective factors adults can use to keep their children from abusing drugs and alcohol. They talked about ways a parent can talk to their child without being judgmental or accusatory. And they stressed, if a parent suspects some kind of substance abuse, drop the guilt and do a thorough search.
The parent isn't snooping, but could be saving their child's life.
Andy LePard, safety resource officer for the KV schools, spoke to the groups about the items found at Kankakee Valley High School. He said they don't have much of a problem with alcohol use, but they are finding the vaping devices and some that have been used to smoke marijuana.
"Communication is key. Know who your children's friends are, and know what's happening in their lives," he said. "Talk when there's little chance for distractions and don't do it first thing in the morning or right after school. The kids aren't going to listen if they're hungry or tired. Stay calm, was another suggestion and don't blame."