MOROCCO — For the first time since 2014, the Newton County Lilly Endowment Community Scholarship recipient comes from the North Newton School Corporation.
North Newton senior Ashley Churchill, daughter of Robert and Rhonda Churchill of Lake Village, will receive the full-tuition, four-year scholarship to an accredited Indiana college of her choice and a $900 yearly stipend for required books and equipment.
"This has opened up my scope so much and I can now go anywhere in Indiana and not have to worry about tuition," said Churchill. "This is my biggest accomplishment so far and I couldn't be more grateful for this reward."
Churchill plans to study Elementary Education in college and wants to return to the North Newton School Corporation to teach after graduation.
"Teaching in this district has been my dream since I have been little," added Churchill. "This is where everything good that has happened to me has come from."
Churchill is the President of National Honor Society, Vice President of FFA and 10-year 4-H member. She is also actively involved in various volunteer activities in the community. In 2018-2019 she was named Outstanding Cadet Teacher 2018-2019.
Churchill is a member of the Academic Superbowl team and has served as team captain for the varsity volleyball and tennis teams at North Newton.
"North Newton teachers are so pleased and proud that Ashley Churchill has been selected as this year's Newton County Lilly Endowment Community Scholarship Recipient for 2020," said North Newton High School teacher Barb Blasco. "Ashley is a stellar student ranking No. 1 in her class, in addition to taking Advanced Placement and Dual Credit courses. Ashley serves as a second-year Cadet Teacher meaning she travels to Lake Village Elementary every afternoon to shadow and assist in Kindergarten and 1st-grade classrooms. Ashley is kind, responsible, and trustworthy. She plans on pursuing a teaching degree, and we all believe she will be phenomenal in her own classroom. We are so excited for her to receive this opportunity."
Churchill is undecided about what college she will attend next fall but her top three are currently Manchester University, Purdue and Butler.
"I would like to stay close to home, because we have such a tight-knit family, and I am very close with my sisters (Morgan, and Hope)," added Churchill.
Churchill said she received a lot of help and support in preparing for the scholarship interview and essay.
"This county has amazed me so much with the number of people who wanted to help," Churchill said. "The Student Leadership Academy this summer was the biggest help along with several of my teachers especially Mr. DeYoung and Mr. Schlueter. My family was also a huge help in getting me prepared."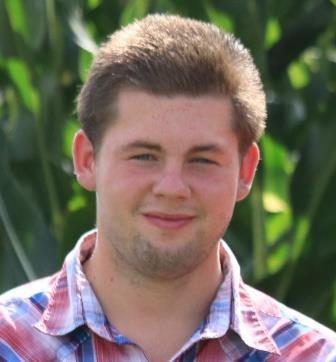 The first alternate is also from North Newton — senior Gabe Gonczy, the son of Robert and Diane Gonczy of Morocco. Gonczy plans to study Agronomic Business and Marketing at Purdue University. He is a National Honor Society member, a 10-year 4-H member, a Junior Master Gardener, and has been involved with the Science Olympiad Team, the Coalition for a Drug Free Newton County, and the Youth Bowling League. He is also the owner of Freezer Beef Business for the last 6 years.
The second alternate is South Newton senior Leah Schriner, the daughter of Jonathon and Angie Schriner of Kentland.
Schriner plans to study Speech and Language Pathology in college. She is a National Honor Society member, team captain of the varsity volleyball team, received the Rotary Youth Leadership Award, a 4-H and FFA member, and Inter-ACT Club Treasurer.
Lilly Endowment Community Scholarship Program
The Lilly Endowment Community Scholarship Program was created by the Indianapolis-based Lilly Endowment, Inc. to 1) help raise the level of educational attainment in Indiana; 2) to increase awareness of the beneficial roles Indiana community foundations can play in their communities; and 3) to encourage and support the efforts of current and past Lilly Endowment Community Scholars to engage with each other and with Indiana business, governmental, educational, nonprofit and civic leaders to improve the quality of life in Indiana generally and in local communities throughout the state.
Begun in 1998, the program offers four-year, full-tuition scholarships to selected Indiana students who intend to work toward a baccalaureate degree at any accredited public or private nonprofit college or university in Indiana. The scholarship also provides $900 per year for required books and equipment.
· Number of scholarships provided to date: 4769
· Total provided by the Lilly Endowment for tuition and book stipend to date: over $405M
· Total number of scholarships awarded in 2019-2020: 143
The program is administered statewide by Independent Colleges of Indiana and locally by the community foundations or affiliates in each of Indiana's 92 counties. Persons interested in information about the program should first contact their local community foundation. High school guidance counselors generally can also provide information.
The Lilly Endowment Community Scholarship has an extensive application process in Jasper/Newton Counties. Students complete an initial online application and essay. This pool of applicants is then narrowed down by the local Lilly Committee to the finalists who are invited to the interview step of the process. Much like a job interview, students are asked questions about their personal and professional goals, as well as some of the major influences in their lives. It is an intense process but well worth the effort. Just completing the application and confidently accomplishing the interview provides a wealth of experience that will serve these students in many areas of their lives. Nominees are then forwarded to ICI for final selection of the recipient.
The Jasper Newton Foundation is very grateful to Lilly Endowment for the gift of this opportunity.