Very visible near the finish line of the Rotary Ramble last Saturday was a phalanx of white shirts with the photo of a bespectacled young man and "Team Peyton" vividly printed over the picture.
Team Peyton, made up of a group of local friends, was there to support Peyton's mom, Nicole Glaser, as she competed in the Ramble. The group was formed to help the family of Peyton Glaser with not only expenses but to afford them some normalcy and show support.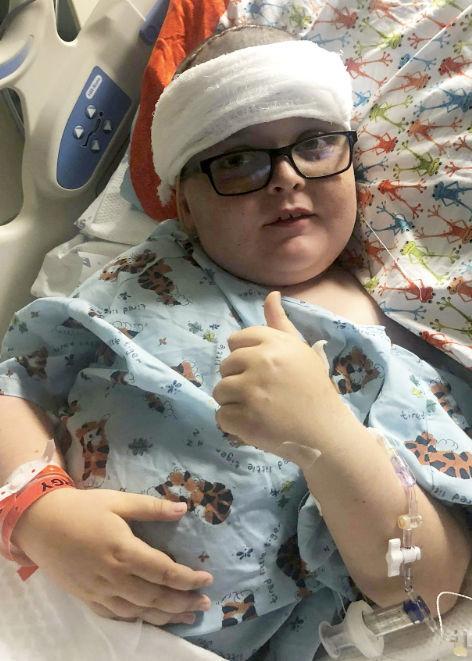 On July 13, 9-year old Peyton Glaser was diagnosed with a tumor on his bran's pituitary gland. For Peyton and his family, this was the beginning of his journey. It began even before that, when he went to his eye doctor for a routine exam. The optometrist asked his mother, Nicole, to bring him back for more tests.
The next step was a trip to Merrillville to see an ophthalmologist, who found blind spots in Peyton's vision from inflamed optic nerves. The family was sent to see a neuro-opthalmologist in Chicago, and that night, were sent to Rush Hospital, also in Chicago. An MRI revealed the tumor, and the diagnosis came that July day.
At Rush, Peyton was scheduled for surgery on July 16 to remove the tumor — which was benign, much to the family's relief. Before this, Peyton was a happy, healthy boy. He had complained of a headache only a couple of times, and a nap would make it better.
With the tumor on his pituitary gland, which is involved in growth, Peyton was shorter than others his age, but his mom said she is short too and they attributed his stature to genetics. Now they know the tumor may have had a hand in it as well. Since the surgery, he has had to take hormones to keep his body in balance, and it is uncertain how long he will have to do this. The tumor affected his thyroid and the hypothalamus portion of the brain as well.
On July 23, Peyton underwent a second surgery to place a shunt in his brain to drain excess fluids. Peyton began physical, occupational and speech therapy at Rush, where he continued to improve.
A good friend of the Glasers asked for a picture of Peyton, without giving a reason. The family later discovered a T-shirt with Peyton's photo and the slogan "Team Peyton" had been made and was being sold at Varsity Sports in DeMotte to help defray the costs of Peyton's surgeries and recovery. Although the family has insurance, there will be costs that insurance doesn't pay. The first order of T-shirts, totaling 50, were quickly sold out.
The good friend also set up a Go Fund Me page at gofundme.com/peyton-glaser to help the family with medical bills and other costs.
Peyton is now at La Rabida Children's Hospital in Chicago, where he has a lakeside view. He continues to undergo therapies and gets to play outside and be a kid. He still has to have blood tests, which he doesn't like, but he is improving daily, and though he may not be home in time for school to start, he will be there soon. He will be attending KV Intermediate School this year.
Peyton, his parents, and his little brother are all anxious for him to come home. Nicole Glaser said their family and the community have been very supportive. "The community has been awesome," she said. At home, there are cards, candies and balloons waiting for Peyton when he returns home. There will be a special homecoming to celebrate his recovery and to welcome him home after his long journey.
Nicole said they aren't sure if Peyton will be able to attend school all day at first. He tires easily and may not be able to stay, but they remain positive that eventually, he will be back to the healthy happy boy he was before the tumor interrupted his summer.
At this time, doctors are unsure how long Peyton will have to continue with hormone treatent. He will have to return to Rush every other month for awhile to have MRIs done, as physicians want to be sure the tumor doesn't return.
Nicole and her husband Charles planned to participate in the Rotary Ramble wearing their Team Peyton shirts and asked others to wear them during the run also. Peyton planned to have his grandfather with him so the family could attend the Touch of Dutch Festival.
Afterwards, his mother posted on her blog, "It was awesome to see all the support yesterday at the Touch of Dutch Festival ... Peyton has no idea how much he is loved by the community, but he will know after this journey is over. Thank you so much everyone for everything you have done, it is a long list of people and nearly impossible to thank everyone individually, but we truly appreciate you ALL!"
Nicole was swarmed as she crossed the finish line in 37:04.7, bringing a huge smile to everyone's face. Peyton's Dad, Charles Glaser, was also there. A family friend states that the family has pretty much been living at the hospitals and this was a rare break for them. They had hoped to have Peyton at the event but, even after 30-plus days in two hospitals, he wasn't able to attend. To remedy that, his family asked that everyone with a Team Peyton shirt wear them and add photos to the facebook page that his father set up to keep the myriad of followers updated.
The family does need help with the plethora of expenses that have mounted and numerous people have stepped up to help. Varsity Sports in DeMotte is selling the Team Peyton shirts for a minimum donation of $25 (plus sizes add $2 each size) with all profits from these shirts given directly to the Glaser family to help them in this most trying time. MaryKate Shultz, owner and creator of MK Bows is also donating the profits from her sales. There have also been sales of makeup and even Tupperware to benefit this cause.