WHEATFIELD – The Kankakee Valley Kougars Cross-Country teams held their annual Hokum Karem Invite on Tuesday, Aug. 14. The course began and ended in the open field at the rear of the high school but wove in and out of the woods in between.
The Hokum Karem is not the usual Cross-Country Run in that runners, instead of competing as individuals whose individual times all count towards the team score, instead run as partners. The Hokum Karem is a special format in cross country found mostly in Indiana.
It is a continuous two-person relay in which duos of runners take turns running and resting until covering a one kilometer loop five times. The finish line is also the exchange location and it gets busier and busier as the competition spreads out and exchanges overlap.
"It is basically a game of tag, cross country style," said KV Boys' C-C Coach Tim Adams.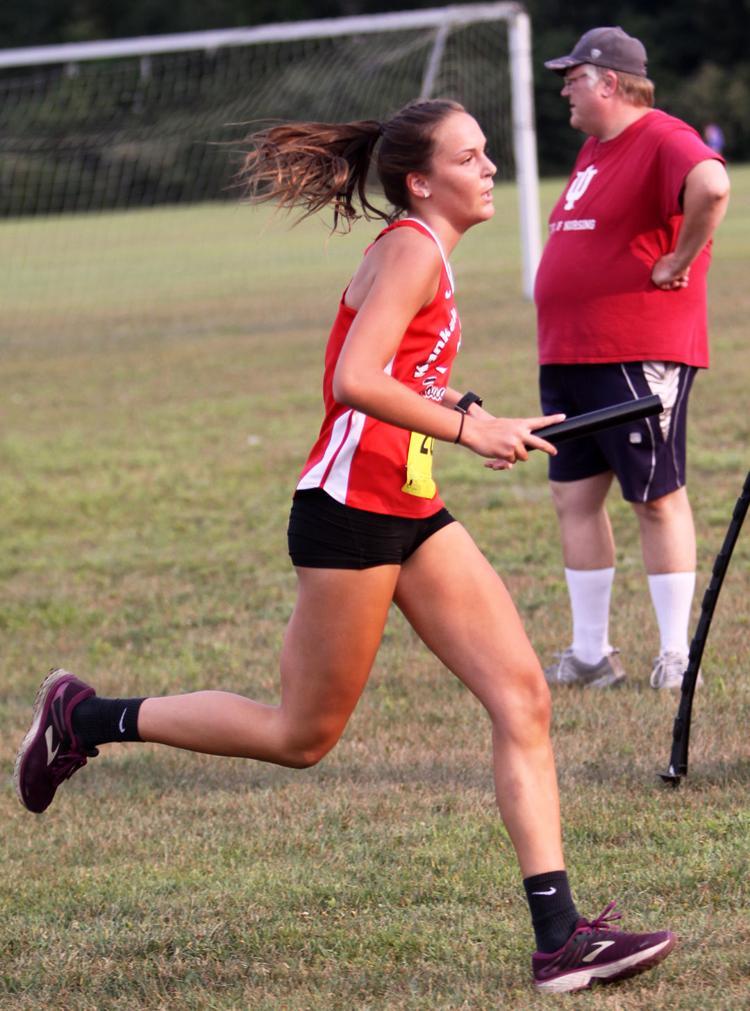 Kankakee Valley hosts a Hokum Karem event each year. The event was created by legendary Coach J. Owen Huntsmen at Wabash College in 1962 as a way to showcase his runners. The original event featured two runners alternating running a one mile course three times each for a total of six miles. The three by one mile was changed to a five lap by one kilometer format a few years back that proved popular with runners as they still covered approximately the same distance in total, just in smaller bites.
No team scores are kept but the pairs competing and completing in the 10K total distance relay race are ranked through the top 10. For the ladies, place, school, runners and time were as follows: 1. Lowell — Karina James and Brooke Hayden — 37:46; 2. Lowell — Annalise James and Alexia Bibakis — 38:11; 3. Morgan Twp — Kiersten Duzan and Klaire Lemmons — 39:53; 4. Morgan Township — Megan Teitge and Emma Rakowski — 40:05; 5. Hebron — Runners Unknown — 41:07; 6. Lowell — Megan Kaczur and Claire Mitsch — 41:18; 7. Hobart — Sydney Belk and Elena Polizotto — 41:29; 8. Highland — Kayla Polan and Grace Aurand-42:20; 9. Kankakee Valley — Sam Martin and Lexi Culbreth — 43:10; and, 10. Kouts – Runners Unknown — 43:35.
In the boys' results, place, school, runners and time were as follows: : 1. Covenant Christian — Carson Bakker and Kohler Peterson — 32:34; 2. Lowell — Michael Mayer and Jacob Durr — 32:56; 3. Kankakee Valley — Micah Adams and Cameron Sheehy — 33:17; 4. Washington Township — Matthew Sears and Tyler Hachey — 33:39; 5. Highland — Eric Allegre and Lucas Guerra — 33:41; 6. Hobart — Bryan Cherry and Joe Meagher — 34:05; 7. Lowell — Runners Unknown — 34:15; 8. Morgan Twp — Runners Unknown — 34:23; 9. Michigan City — Runners Unknown — 34:25; and, 10. Hebron — Runners Unknown — 34:35.