High school football is comparable to a religion in Texas. And for Dante Barlow, who grew up in the Lone Star State, it was only natural to spend countless hours on the gridiron.
"Football is on a different level in Texas," says Barlow, who now calls Greensburg, Pennsylvania, home and works as a project manager for Westinghouse Electric Company. "It's such a huge thing. There are high school games played in front of 60,000 people. It's just incredible."
Barlow was a linebacker at Willowridge High School and during the 1982 season helped the Eagles win the Class 4A Texas high school state championship.
"I wasn't very good, but Thurman Thomas was on our team so we ended up winning state," Barlow says, referring to the Hall of Fame running back who played with the National Football League's Buffalo Bills.
Barlow, who was a three-sport athlete at Willowridge, also ran track and was on the school's basketball team. Track, he says, was his favorite — the 800 meters, mile and two-mile run were his preferred events. Barlow recalls nearly breaking the five-minute mile mark as he clocked a personal best of 5:08 while at Willowridge.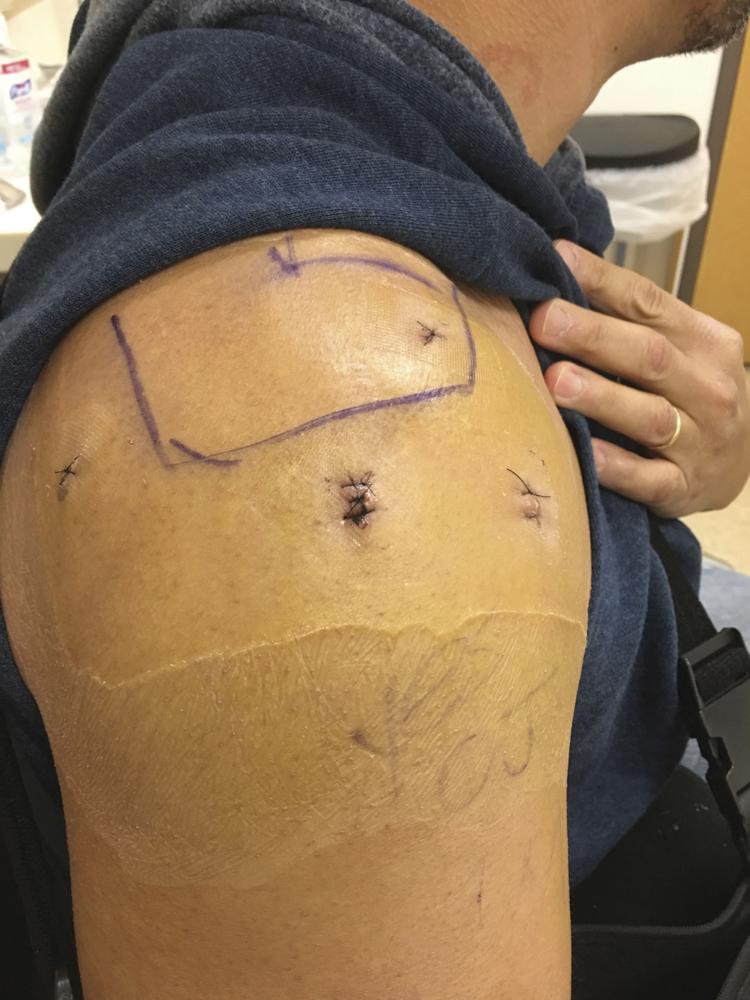 Barlow, now 50, never truly gave up football, though he did switch from tackle to recreational flag football after high school. He also added weightlifting to his repertoire. But years of wear and tear from his physical lifestyle began to take a toll on his body.
On December 1, 2016, Barlow went under the knife to repair the supinator tendon and bicep in his right arm. Bone spurs rubbing against his right bicep had rendered Barlow unable to lift his right arm over his head.
"It was my first surgery ever," he says. "I delayed it for about five months but eventually it just had to be done."
Recovering from the surgery has been a long and occasionally painful process. Strengthening exercises during physical therapy have helped, but Barlow admits that more than seven months after the surgery he is still not 100 percent recovered.
"But I'm getting close," he says. "I'm about 95 percent back."
Barlow was unable to drive while his right arm was in a sling for the first six weeks following the surgery. Being prohibited from getting behind the wheel was, however, far from the greatest inconvenience for the Chicago native.
"The sleeping arrangement was the most difficult part of the recovery," he says. "My arm had to be elevated so I couldn't lay down flat on my back to sleep. I had to sleep in a La-Z-Boy. I quickly learned that a La-Z-Boy is great for sitting but not for sleeping."
Prior to surgery, Barlow made his way to the gym approximately four times a week and routinely lifted more than 300 pounds. Playing the waiting game while healing after surgery and returning to his normal workout routine has been a challenge, he says.
"Right now I'm only able to lift about 135 pounds, and I remember the day before my surgery I bench pressed 315 pounds five times," he says, "My biceps were about 16 inches before the surgery and then went down to about 14 inches due to the inactivity. I'm slowly building my body back up to where it was before. I do get tempted to push it, but the thought of reinjuring myself and having to sleep in that La-Z-Boy again stops me."
Barlow says he is committed to easing back into things, especially after a recent discussion with a coworker.
"I spoke to a coworker who had the same shoulder surgery as me, and she had to have it again," he says. "The doctor told her there is a 25 percent failure so I'm taking caution as not to be in the 25 percentile."
Barlow is eyeing the fall for a return to his regular weightlifting schedule.
"It is a long process of strengthening the tendons prior to getting back under that type of weight," he says. "September is my timeframe."
Even though he has not lived in Texas for about a decade, aspects of the state's culture remains deeply ingrained in him. When asked the one thing he is most itching to do when fully recovered, Barlow gave an answer that would make any Texan very proud.
"I'm really looking forward to throwing the football again," he says. "I love to play in flag football tournaments and pick-up games. I can't wait to toss around the pigskin."